Posted on
Sun, Nov 27, 2011 : 5:58 a.m.
Champions For Charity expands nonprofit fundraising model, may launch Ann Arbor marathon
By Laura Blodgett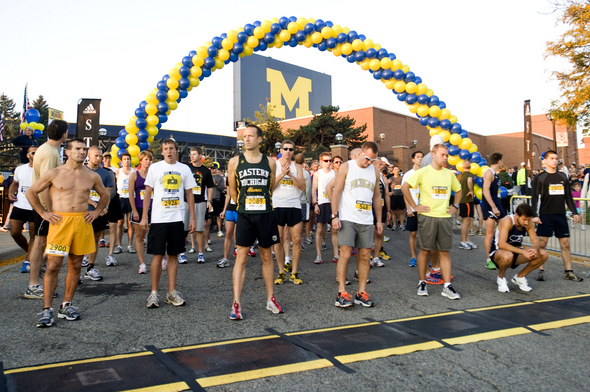 Joseph Tobianski | AnnArbor.com
Champions For Charity LLC
, best known for hosting runs like
Big House Big Heart
, recently got a new home.
The company recently moved into downtown Ann Arbor office space at 320 W. Washington Street near the YMCA. Previously, Champions For Charity operated out of the home of Ann Arbor residents Andrea and Mike Highfield, who founded the organization in 2009 to raise funding for multiple charities by hosting large, high-profile events.
Andrea Highfield was working at Ann Arbor athletics store Running Fit as marketing director in 2006 when she and her husband organized the first Big House Big Heart event. The run was originally formed to raise awareness for ALS research to support Mike Highfield's law partner Phil Bowen, who died from the disease.
Since then, Champions For Charity has carved out a niche business model, growing to 10 employees and nine races, including the Ann Arbor Firecracker 5K in downtown Ann Arbor, the Ann Arbor Turkey Trot at Hudson Mills Metropark and the Heart of Detroit Run/Walk at Comerica Park.
Champions For Charity organizes and executes special events, allowing nonprofits to focus their efforts on fundraising with 100 percent of pledges going to the charitable cause.
This year 175 local nonprofits raised $1.5 million during the Big House Big Heart race alone.
"There aren't any other groups out there that have put together this whole way of raising money for nonprofits —it's fairly complicated," said Andrea.
Champions For Charity secures sponsorships and entry fees to cover the operating costs of running the events, Andrea said.
The group's goal is to raise $150,000 in total sponsorships in 2012.
"We're doing it because that is our mission to help nonprofits make money," Andrea said. "Their funding is less and less all the time and they have to be more and more creative all the time. We make no money off any of the non profits or charities."
Champions For Charity hopes to help charities raise $3 million in 2012. Highfield admits it's a lofty goal since the group has helped charities raise about $2 million so far in 2011.
However, it may be possible with the company starting two new runs in Ann Arbor next year: an Ann Arbor marathon to be held on June 17 as well as resurrecting the Big 10 Run on Sept 23, 2012.
The company is currently meeting with city officials to plan the race routes.
"My vision for the Big 10 Run is to start and finish at Burton Tower right on the Diag," said Mike Highfield, who recently retired as a partner with the law firm of Conlin, McKenney & Philbrick in Ann Arbor.
Champions For Charity would like the marathon to stay within the city of Ann Arbor if possible.
"One thing that is clear is that we would start at the northwest corner of Stadium, which has the most beautiful view of Ann Arbor. You can see the entire campus and Main Street area," Highfield said.
The trail may extend from Geddes Avenue and Huron Parkway out to Gallup Park.
"What we're trying to do right now is do a really good job with the races on this year's schedule, see if we can grow them, work with the nonprofits to help develop their ability to raise money, and then, we wouldn't mind doing some out-of-state races in a few years," said Highfield.
Laura Blodgett is a freelance reporter for AnnArbor.com.