Changes are brewing for Ann Arbor's Mighty Good Coffee Roasting Co.
Posted on Thu, Aug 12, 2010 : 6:02 a.m.
Mighty Good Coffee Roasting Co. is set to make a mighty big move.
Owner David Myers is consolidating his café and roasting operation into a single location at 217 N. Main St., the former home of Peartree furnishings and most recently short-lived Steinway Piano Gallery.
Mighty Good Coffee's café will move from its tiny storefront at 118 S. Main St. inside the Goodyear Building and the roasting operation on Huronview Boulevard, off of North Main near the U.S.-23/M-14 entrance, by Labor Day, Myers said.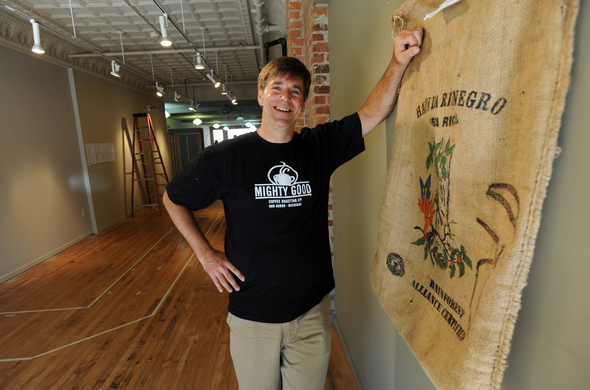 Lon Horwedel | AnnArbor.com
It was an idea he rebuffed at first. "My friend is an architect in the building (at 217 N. Main) and I looked at the space on a lark," Myers said. The 2,200 square feet seemed too big. "I didn't see myself being able to fill the space," he said.
His cafe occupies less than 200 square feet in a storefront corner of the Workantile Exchange, a membership-funded co-working space. Both opened in mid-2009, and Mighty Good gained additional space for seating at the end of the year. With the move, Mighty Good will go from seating for 12 with no flexibility for groups or meetings to seating for 24 with space that will allow for special events and coffee classes, Myers said.
"We've had a really cramped space," he said. "This will allow us to do a whole lot more." It will also allow him to expand the menu to include additional drinks and a larger variety of baked goods, bagels and other grab-and-go food.
The move will allow the Workantile Exchange a chance to expand, said Michael Kessler, who opened the co-working and meeting room space 14 months ago. The Workantile Exchange has grown from a core group of 20 members to nearly 100 members by this summer, Kessler said. Members pay $160 a month.
And while the Workantile Exchange hasn't maxed out its space yet - it can accommodate 34 people and there are peak times when there are 27 people - it may be an opportunity too good to pass up.
"We don't quite know how we want to fit into that space, but we'd like to have the space. We just haven't figured out how to pay for it," Kessler said. He will be meeting with members Aug. 24 to discuss the next move. Plans could include bringing in a third party or using the space for the exchange.
Builder and developer Ed Shaffran owns the building.
"This may be a hair too early for us. It's hard to coordinate the expansion of two businesses and make the timing perfect for both," Kessler said.
For Mighty Good, the move will allow Myers to open the roasting process up to the public. "Roasting in-store really appealed to me. It adds a new level of experience. People will be able to see the process and better understand it…. Customers will be able to buy right out of the roaster," he said.
While Mighty Good will move a couple of blocks away from the Workantile Exchange, which offers a natural clientele, Myers expects most of his customers to make the two-minute walk. He also expects to pick up weekend traffic because Mighty Good will be closer to the Ann Arbor Farmers Market.
The move will also allow Myers to sell more whole bean coffee, which has seen surprisingly robust sales. Whole beans account for 35 percent of the storefront sales, a statistic much higher than Myers predicted. He expects whole bean sales to continue to grow.
While Myers has been roasting coffee under the Mighty Good name for nearly five years, he only opened the storefront when the Workantile opened in the middle of 2009.
Myers in turn has placed his property at 202 Huronview Blvd., which at first served as base for his photography and graphic arts business and then became home for his coffee roasting operation, up for sale.
Mighty Good coffee is sold in stores in Ann Arbor, Saline, Chelsea and Dexter and hand-delivered to Ann Arbor customers who order direct. It is also served at restaurants and businesses around Washtenaw County.