Posted on
Sun, Aug 5, 2012 : 5:58 a.m.
Changing skyline: Construction wraps up on downtown Ann Arbor's 3 new apartment projects
By Lizzy Alfs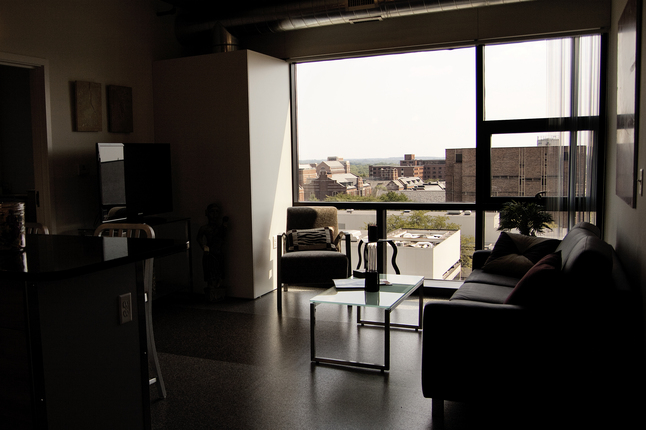 Jeff Smith | AnnArbor.com
It took more than four years, dozens of city meetings and 900 building inspections, but downtown
Ann Arbor
's
Landmark
high-rise is nearing its final hurdle before tenants can move in.
The skyline-altering high-rise, located on the corner of South University and South Forest near the University of Michigan campus, has to clear its upcoming safety inspections before it can receive a temporary certificate of occupancy, said Ralph Welton, the city's chief development official.
Two other housing projects opening this month, Zaragon West and City Place, already have received a temporary certificate of occupancy and have the go-ahead to start moving in tenants.
Welton said he's had building inspectors on-site at Landmark for up to eight hours a day, helping to ensure the 600-bed development opens by Sept. 1.
"They're progressing a lot lately," he said. "We have an inspection coming up for safety issues — to make sure the building is safe in case of an event — and once that's cleared, they will probably be able to get a (certificate of occupancy) in time for move-in."
Together, the three developments represent a significant investment in the Ann Arbor area. According to preliminary plans submitted to the City of Ann Arbor in 2010, Zaragon West was estimated to cost $20 million to build. Documents obtained by AnnArbor.com on City Place said it was a $13.5 million project. At Landmark, formerly called 601 Forest, the land deal alone was reportedly worth at least $12 million.
The projects also bring about 1,000 beds to downtown at a time when the housing market near the University of Michigan continues to attract national investors.
Landmark, Zaragon West and City Place join two other recent high-end student developments: Sterling 411 Lofts, located on East Washington Street, and Zaragon Place, located on East University Avenue.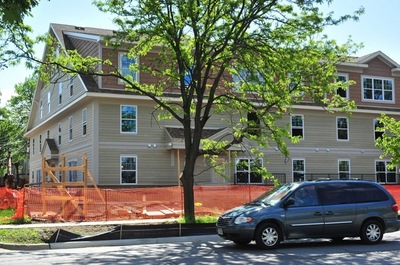 Ryan J. Stanton | AnnArbor.com
With a price-per-bed that ranges from $800 all the way up to $1,745, and lavish amenities such as yoga studios, movie theaters and tanning beds, these developments are a far cry from some of the more traditional student properties near downtown.
Amy Khan, president of local property management company CMB, said she was worried the opening of the new developments would result in vacancies at CMB's properties around Ann Arbor.
"We expected that it would be a lot harder to find residents because there would be so much competition," she said. "At the Corner House Lofts (on State Street), we did find that the biggest effect it had on us was that we have more residents doubling up on rooms."
She continued: "Many of our floor plans allow up to two residents to share a bedroom...those students more on a budget can still live on central campus in a high-rise building, but they can share a room because it's substantially less to do that."
She said CMB's properties are still fully leased for the 2012/2013 academic year.
"The cost to live in those new high-rises is so high that it actually kind of helped us, I think," Khan said. "None of our apartments are that expensive.
"You look at some of those prices and you wonder how they find people to afford it; but they do."
Khan's right: So far, it appears the amenities and convenient locations at the new developments seems to be outweighing the high rents.
In October, JJ Smith, executive vice president of development and construction for Landmark property owner Campus Acquisitions, said availability was already limited for popular floor plans at Landmark — and that was when the building was only three floors off the ground.
Rick Perlman of Chicago-based Zaragon Inc. said his local developments, Zaragon West and Zaragon Place, are both at nearly 100 percent occupancy.
"Everything is terrific," Perlman said. "We've got people from all over the country and all over the world living there. We're really excited about it."
Perlman said construction has wrapped up at the 14-story, 200-bed Zaragon West, located at 401 Thompson St., and tenants are starting to move in on Monday morning.
On Fifth Avenue just south of downtown, tenants were unloading cars and moving in to the 144-bed City Place development last week.
Developer Jeff Helminski of Rochester-based Campus Village Communities told AnnArbor.com he's "thrilled" with the development, both aesthetically and from a leasing standpoint.
He said the tenants are primarily business school and law school students.
Welton, the city's chief development official, said he doesn't anticipate any snags with the opening of the three developments, but once the city completes the final safety inspection at Landmark, he said his inspectors won't get much of a break.
"You know, it's nice to get these three (housing projects) out of the loop, but we have a couple more going in pretty quickly," he said.
Among them:
Construction is under way at the 155-unit Ann Arbor City Apartments at the corner of First and Washington. Developed by Farmington Hills-based Village Green, the project is targeting young professionals.
The 13-story The Varsity project, located on East Washington Street next to Sterling 411 Lofts, is under construction and will bring 415 beds to downtown.
City Council recently approved plans for 618 South Main, a project that promises to bring 231 more bedrooms to South Main Street.
A prime piece of downtown real estate next to Sloan Plaza at 413 E. Huron St. also sold recently and there are talks of another high-rise being developed there.
Local developer Ed Shaffran last week proposed adding two floors for high-end apartments and condominiums to the top of his historic downtown building.
Lizzy Alfs is a business reporter for AnnArbor.com. Reach her at 734-623-2584 or email her at lizzyalfs@annarbor.com. Follow her on Twitter at http://twitter.com/lizzyalfs.