Posted on
Sat, May 11, 2013 : 5:58 a.m.
Chase Bank to close branch in Kroger on South Maple Street
By Ben Freed
The Chase Bank branch in the Kroger grocery store at 400 S. Maple St. in Ann Arbor will close after business ends on Saturday, July 27.
The branch will consolidate with the existing location at 2475 W. Stadium Blvd in the Westgate shopping center. The two branches are less than a block away from each other.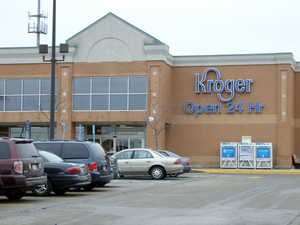 File photo
"We are very, very aware of our customers and ensuring that we have the most convenient channels for them to complete their banking," Chase spokeswoman
Christine Holevas
said.
"And when we see a lot of activity at one branch and not as much at another, we have to take a look at that and make sure we're serving our customers' best needs."
Chase, headquartered in New York City, operates 14 bank branches in Washtenaw County. In addition to the branches that are consolidating, the bank has two branches in close proximity near the corner of Jackson and Zeeb roads in Scio Township. One branch at that location is in the Meijer store while the other is a stand-alone branch.
"Some of the issue is that when we acquired WaMu [Washington Mutual], there was a lot of redundancy, so we're trying to cut down on that," Holevas said.
PNC Bank also consolidated branches recently, closing its Arlington Square branch at the corner of Huron Parkway and Washtenaw Avenue in late April. PNC spokeswoman Amy Vargo attributed some bank consolidation to an increase in online and mobile banking.
"There are certainly new channels opening up all the time, but one is not replacing the other," Holevas said.
"People want to do different things through those different channels. You can deposit your check through your smartphone but if you're talking about getting a loan or a credit card or how much should I put in savings, when you want to have that consultative experience nothing beats the branch."
Chase notified customers of the affected branches of the closing with a mailed notice Friday. It is unclear at this point whether an ATM will remain inside the Kroger store.
Ben Freed covers business for AnnArbor.com. You can sign up here to receive Business Review updates every week. Reach out to Ben at 734-623-2528 or email him at benfreed@annarbor.com. Follow him on twitter @BFreedinA2