Posted on
Mon, Dec 10, 2012 : 5:59 a.m.
Cheers! Chelsea Alehouse Brewery will bring Michigan's craft beer history full circle when it opens
By Janet Miller
Janet Miller | AnnArbor.com
Chris Martinson
will reclaim a piece of
Chelsea's
history in a couple of weeks when he opens the
Chelsea Alehouse Brewery
in the
Clock Tower Complex
on the north edge of downtown.
While it will be Chelsea's only microbrewery, it won't be the first. Chelsea hosted the state's first microbrewery, the short-lived Real Ale Company, in 1982.
While the Real Ale Company was an idea before its time - customers used to Miller Lite, Budweiser and other nationally bottled beers didn't know what to make of craft beers - Martinson said he's confident the community is now ready.
"It's not always best to be the first," he said. "There was no built-in market."
Chelsea has a vibrant downtown and microbreweries are in a huge growth phase, Martinson said. "People know who I am. I was at Lowe's and someone came up to ask me when we were opening."
He's banking on the interest. Martinson, a home brewer for almost a decade, raised some capital, quit his day job in the biotech field last spring, found five silent business partners, and took out an SBA-backed bank loan in order to launch Chelsea Alehouse. He spent more than three years researching and planning for the brewpub, and as a father of two young children, Martinson said he's not a risk-taker.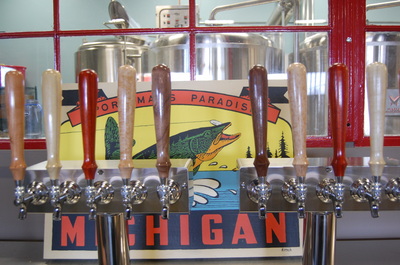 Janet Miller | AnnArbor.com
Chelsea Alehouse will have a soft opening in mid-Decemeber and an official opening at the end of December.
Martinson found space in the McKinley-managed former warehouse of the Chelsea Teddy Bear Company, northeast of the actual Clock Tower. The open space with high ceilings will keep its industrial feel, Martinson said, but a bank of windows was added to bring in light.
The build-out included a wooden bar made from repurposed school bleachers, as well as track lighting, a painted ceiling and a warm brown color scheme.
The brewery is kept separate from the bar and dining space by a wall of framed glass, salvaged from the old Federal Screw Works building in Chelsea.
Martinson was introduced to craft beers in the late 1990s while in college, where housemates competed to see who could bring home the newest microbrew. Craft beer businesses have grown exponentially in the past decade, with Michigan claiming more than 100 microbreweries, Martinson said.
Martinson starting brewing his own beer nine years ago and it wasn't long before friends were asking for samples. He even brewed beer for friends' weddings. But his brewing became more than a hobby when he started to inquire around Chelsea to see if a brewpub would be welcome. "My wife (Aubrey) was director of Chelsea Center for the Arts at the time, and knew a lot of people in town. Almost every one of them thought it was a good idea," Martinson said.
The Chelsea Alehouse's microbrew state license allows Martinson to serve and bottle his beer, but bottling won't come until next year, he said. Once he's at full throttle, he plans to have 10 different ales on tap, which will be rotated seasonally. A small kitchen will produce light fare such as sandwiches, soups and appetizers. He will employ a staff of seven part-timers.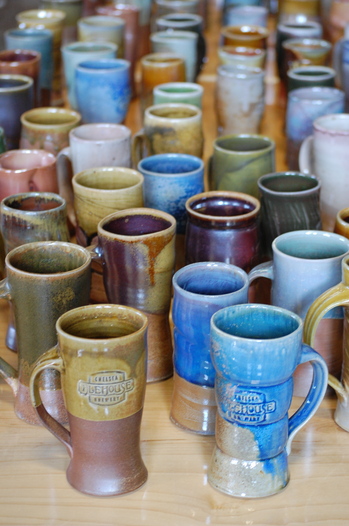 Janet Miller | AnnArbor.com
Public interest has been strong, Martinson said. Chelsea Alehouse is selling annual memberships that provide for six gallons of beer to take home, a T-shirt, a ceramic mug and discounts. More than 430 people have signed up, and he's expecting to reach beyond Chelsea. There are already members from Ann Arbor, Dexter and Manchester.
"People are willing to drive an hour to try out a new brew pub. I've done it," Martinson said.
The Real Ale Company, which was located in the Clock Tower proper, produced a British style beer that was naturally carbonated and reportedly served by British Airways on its U.S.-to-England flights. Martinson likes the idea of starting a microbrewery steps from where the Michigan craft beer craze got its start, he said. "It's fun bringing the microbrewery back full circle."