Posted on
Sat, Oct 30, 2010 : 6 a.m.
Chelsea Community Hospital to open new chemotherapy and infusion center Nov. 1
By Lisa Allmendinger
Lisa Allmendinger | For AnnArbor.com
Chelsea Community Hospital
will open a donor-funded chemotheraoy and infusion center on Nov. 1 for patients with blood disorders and cancer in collaboration with Ann Arbor Hematology Oncology Associates.
"One of the hospital's goals was to expand its oncology services for residents in the Chelsea area," said Kathleen Griffiths, president and CEO.
She said the center will start slowly and build as the demand increases and it is the first step in providing expanded cancer treatment services at the hospital.
Griffiths said she hopes the center will provide radiation services in the future.
"Having service close to home is really important for patients," she said.
Located in Suite 204 on the second floor of the professional building, the new infusion center was completed through donations and will see its first infusion patient on Nov. 2, said Jennifer Berry, marketing manager for the hospital.
There are six treatment bays - five open bays and one private one. All have amenities such comfortable furniture, a flat screen TV, a media and entertainment library, refreshment stations and warm blankets. Each bay has a picture-window view of the woods on the hospital campus.
During a hospital auction in May, more than $51,000 was raised for the bay amenities during the "Pause for Pledge" portion of the evening. The hospital has set of goal of $21,000 to outfit three rooms and it was exceeded by more than $30,000.
Each infusion bay includes a plaque with a donor's name.
In addition, a group of Dexter residents raised more than $20,000 during a fund-raiser called "It's a Great Day to Be Alive," to support the new cancer center.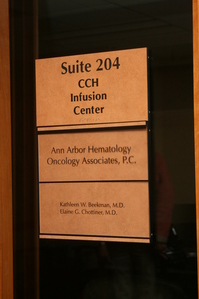 Lisa Allmendinger | For AnnArbor.com
Included in the space are a check-in area and waiting room with original artwork by Mary Beth Koeze of Chelsea, two physician offices, a nurse's station, and three exam rooms in addition to the treatment bays.
"We are delighted with the collaboration with Ann Arbor Hematology Oncology Associates and to be able to provide these services," Griffiths said.
Dr. Katie W. Beekman of Chelsea is the medical director of the center, and there are nine additional Ann Arbor Hematology Oncology associates, including a certified oncology nurse and nurse practitioner.
Infusions are planned for Tuesdays, Wednesdays and Thursdays, Berry said, while the office will be open Monday-Friday. "As demand grows,we'll expand the hours as needed," she said.
Chelsea Community Hospital is a not-for-profit hospital that opened in 1970 and has about 1,050 fulltime and part-time employees. It recently merged with Saint Joseph Mercy Health System.
Lisa Allmendinger is a freelancer reporter for Annarbor.com. She can be reached via e-mail. .