Posted on
Tue, May 10, 2011 : 12:42 p.m.
Chelsea State Bank: 'Huge network' of criminals made 2,500 fraudulent debit card purchases
By Nathan Bomey
A coordinated network of criminals used Chelsea State Bank debit card numbers to make more than 2,500 fraudulent purchases over the weekend, the bank reported today.
Chelsea State Bank CEO John Mann said the early results of an investigation into the incident by the bank and the FBI indicate that the bank was targeted by a "a network of individuals spread out all over the country, if not the world."
"It's obvious that there is a huge network," Mann told AnnArbor.com.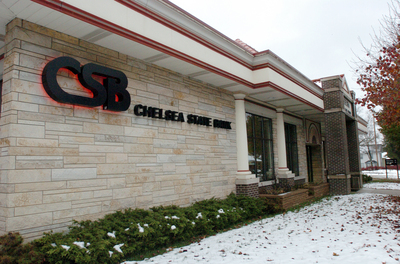 File photo | AnnArbor.com
The criminals made 2,539 transactions, most of which were less than $15, he said. Mann also said Chelsea State Bank was not the only institution the criminals targeted.
Chelsea State Bank, a 113-year-old institution with about $196 million in total deposits, has about 4,000 debit card customers and it's still not clear exactly how many were affected. Mann said that customers whose accounts were compromised are still unable to use their debit cards.
Customers whose accounts were not affected can now complete any transactions that require the card to be swiped, including ATM withdrawals. But, for now, they still cannot make purchases in which the card is manually entered and not swiped — such as Internet-based transactions.
AnnArbor.com on Monday first reported the news of the suspected debit card fraud after Chelsea State Bank temporarily froze all of its debit card accounts over the weekend.
"I recognize that this is a huge inconvenience for customers and we are very sorry it happened," Mann said. "I can't emphasize that enough."
Mann said the investigators have determined that the perpetrators used "fictitious cards" with real numbers and fake names. They were able to make purchases because they were not required to swipe the card or enter a corresponding pin number.
"If there were more accountability at the point of sale, these types of frauds wouldn't happen," he said. "These people don't have to show ID. There may have been a magnetic strip, but it didn't work. These cards were not swiped, they were all manual key-ins."
Mann today reiterated that customers whose funds were misused would not lose any money. They are urged to contact the bank if they suspect that their card numbers were misused.
The FBI has declined to comment on this investigation.
Contact AnnArbor.com's Nathan Bomey at (734) 623-2587 or nathanbomey@annarbor.com. You can also follow him on Twitter or subscribe to AnnArbor.com's newsletters.