Posted on
Wed, Dec 14, 2011 : 5:58 a.m.
Chelsea TreeHouse doubles space, considers further expansion
By Laura Blodgett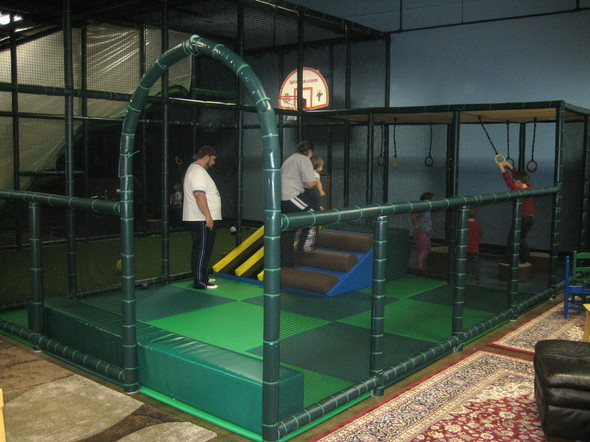 Laura Blodgett | For AnnArbor.com
The Chelsea TreeHouse
— a popular indoor playground for children—has doubled its space and tripled its capacity by moving to a new location at
1101 S. Main
in the Village Plaza Mall at the corner of Old US 12.
"Before, there would be a wait every single Saturday and Sunday nine months of the year," said owner and Chelsea resident Michele Balaka, who was a stay-at-home mom when she started the business in 2006. "That's hard to tell a young child they have to wait 30 minutes when they can see everyone playing."
Capacity has gone from 150 customers to 450. The same 30-by-64-foot, three-level play structure was moved to the new 9,000-square-foot space, which features five slides, two lily pond areas, log roll, obstacle course, separate baby and toddler areas and basketball court.
"The age range has picked up with the basketball court, and we have fifth-graders coming in now," said Balaka. "If you have kids who are 11, 8 and 6, the 11-year-old can now hang out and shoot hoops."
She says the cafe has retained its upscale look with leather couches, vintage furniture, oriental rugs and artwork.
Laura Blodgett | For AnnArbor.com
"We spent thousands of dollars to show the exposed pebbles in the floor, where most places just carpet the place," said Balaka, adding that she wants families to feel like they are in a home.
The new space is actually the location Balaka wanted when she originally opened in 2006, but the 30,000-square-foot building could not be split up at the time. Since then, the U.S. Post Office, a bike shop and Dollar Arena have moved in, and Balaka took the last spot when her lease expired at the former location.
Close to Interstate 94, the new place is easily accessible for her customers who travel from Manchester, Jackson, Lansing, Toledo and even Grand Rapids.
"Chelsea feels like magic," said Balaka. "I can't explain it. I went to U of M and if you did the demographics on it, no one would say you would be successful here. But we have so many successful businesses here. People love coming to a small town, and there is so much culture and diversity and exciting things in Chelsea."
Balaka has since opened a second successful TreeHouse location in 2009 in Lake Zurich, Ill., and she travels there weekly. She has plans to expand in the Midwest over the next five years. "Business wise, it would be silly not to open 20 more locations," she added.
She says other prospective competitors like play cafe Jungle Java don't affect her business. "Trying to compare my business to Bounce House, Laser Tag, arcades … All those places make me look great. We sell Zingerman's coffee; we're a whole different thing."
In fact, the success of the food side of her business is one thing Balaka—who used to work at Ann Arbor restaurant collaborative Main Street Ventures in college—didn't expect.
"We make natural organic stuff and homemade guacamole; our slushes are 100 percent juice," she said. "It takes a ton of effort because I could just order food like everyone else, but instead we're slicing pineapple every day and cutting guacamole, as if you are doing it at home for your friend."
Balaka says the feedback has been very positive since the TreeHouse opened its new location the day before Thanksgiving.
"Many people didn't see us in this location and they walk in and they are amazed by it. It's everything everybody wished we had more of, and now we have three times as much," she said.
The same services, including birthday parties, are available.
An all-day pass is $6.50 per child and adults and babies age 0-12 months are free. A three-month pass is $60 for one child, $90 for two children is $90 and $125 for three or more.
Laura Blodgett is a freelance reporter for AnnArbor.com.