Posted on
Wed, Jan 5, 2011 : 9:32 p.m.
Chicago-area developer unveils plans for Ann Arbor hotel at 202 S. Division
By Paula Gardner
First Hospitality Group unveiled initial plans for a new hotel in downtown Ann Arbor at a public meeting Wednesday night, showing designs for a 9-story building at the southwest corner of East Washington and South Division streets.
The proposal - likely to head into the city's Planning Department later this month - calls for 104 rooms in what the developers called a "boutique hotel."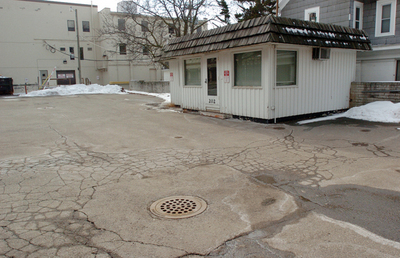 "We're convinced that a nationally franchised hotel .... is going to add value to the continued development of downtown," said
Bob Habeeb
, president and CEO of First Hospitality.
About 30 people attended the presentation in the 3rd floor of the downtown Ann Arbor District Library, asking questions about issues like parking, the building's potential effects on neighboring properties and the market need for a hotel downtown.
Habeeb and Ira Ury, the project director for First Hospitality, underscored the company's presence in Ann Arbor as long-time owner of the Hampton Inn on Green Road and its corporate track record as a company that owns and operates major national franchises among its 40 Midwest hotel properties.
The project they'll propose for 202 S. Division will be LEED-certified and operated under a national brand, they said.
Preliminary renderings displayed at the meeting showed a building extending to the lot line along South Division, with street-level windows and a center entry area. There are 5 feet between the west side of the building and the west lot line, separating the parcel from nearby homes.
The plans also will incorporate an outdoor plaza at the northeast corner of the property, with visibility from both Division and Washington streets.
Several audience members raised questions about the design of the building and how it will fit into the city approval process, since City Council expects to make a decision on downtown design guidelines later this month.
"It has no character," said Herb David, downtown business owner.
The lack of windows and defining design on the north and south elevations were among the concerns, which Ury said he'd take back to architects. But both he and Habeeb noted that the rectangular nature of a guest room - and the expectations of guests for where they'll find windows - could prohibit changes.
Ray Detter, a member of dowtown's Citizens Advisory Committee, asked for more detailed renderings so that the public could get a better sense of the building's design and its impact on nearby properties.
"If we see more, maybe we could support it more," Detter said.
Others in the audience raised questions about parking, which will not be offered on-site.
Ury said the plan was to offer options for guests similar to what they'd find in large cities: Off-site parking at Liberty Square and possibly valets.
He also answered questions about the potential for the Division Street hotel entrance to clog the downtown artery, saying a mandatory traffic study should help measure the impact. So far, he said, the development team hasn't been told it's a city concern.
"Hotel parking really is a nighttime event," Ury said.
The company is not looking at mixed uses for the site - like retail or restaurant space - despite the urging of Roger Pothus, owner of Renaissance Clothing in McKinley Towne Centre across South Division from the property.
Ury and Habeeb also discussed some of the financial aspects of the hotel, without getting into projections for occupancy or details on costs and financing.
"Speculators tend to look at the community for underwriting," Habeeb said. "We will be financing this project by putting up a significant piece of equity.
"... We clearly believe the hotel wil be successful, because we're not playing with other people's money, we're playing with our own."
The presence of the University of Michigan in Ann Arbor and the hotel traffic it generates is a big part of the reason the hotel should be viable, the pair said.
The company's experience in Ann Arbor also gives it familiarity with the market and its needs, they said. While outlying hotels could be affected by construction, building in Ann Arbor's downtown fits a national trend of customers seeking out downtown accommodations instead of outskirt hotels.
"We're not a stranger to Ann Arbor," Ury said. "We've owned and operated here for a long, long time."
Paula Gardner is Business News Director of AnnArbor.com. Contact her at 734-623-2586 or by email. Sign up for the weekly Business Review newsletter, distributed every Thursday, here.