Posted on
Sun, May 5, 2013 : 5:58 a.m.
Ex-Pfizer and Lipitor drug developer closes $33 million funding round for new cholesterol drug
By Ben Freed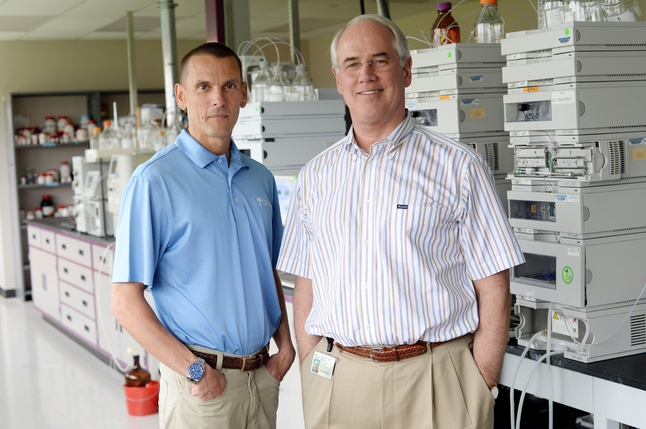 Melanie Maxwell | AnnArbor.com
When
Roger Newton
started the first
Esperion Therapeutics
in 1998, he raised more than $200 million and sold his company to Pfizer for $1.3 billion. Now in its second life, the
Plymouth Township
-based drug development company closed a new $33 million round of funding last week.
The funding will allow the company continue its growth as it develops a drug that could help people who have negative reactions to Lipitor lower their cholesterol. The investment round, the largest in Ann Arbor since medical device company CytoPherx raised $34 million last year, was not easy to close.
"Ever since the global financial crisis in 2008, if you talk to anyone in the biotech industry they would say it is much harder," said CEO Tim Mayleben, who rejoined the company last December.
"… There are fewer venture capital firms, fewer alternative sources of funds, it has been a shrinking universe of potential investors. You really have to try harder and you have to stand out more."
This funding round drew from previous investors in the company including local VC fund Arboretum Ventures as well as newcomer Longitude Capital. Mayleben believes that his current company has a unique asset that has helped it attract this kind of funding.
"I like to say that there's only one Roger Newton," he said.
"There's only one guy who co-discovered Lipitor, founded the original Esperion and now brought it back. ... There's a lot of people that want to be part of that."
Newton raised an initial $22.75 million in 2008 to buy back the patent for the molecule, ETC-1002, that he said excited him more than anything he had ever seen before. He used that money to re-found Esperion, bringing a number of former Pfizer and Esperion employees on board with him.
Esperion is using ETC-1002 to develop a drug in pill form that will be able to lower low-density lipoprotein (LDL) cholesterol in patients without affecting the more healthy high-density lipoprotein (HDL) cholesterol. The drug uses a different process than Lipitor, which Newton also co-discovered.
"This drug will be able to be used by people who cannot tolerate statins, or who are statin resistant," Newton said.
"That is potentially 9 million people who currently have trouble lowering their cholesterol to where they want it. The only other non-statin drug only lowers cholesterol by 15-18 percent. We can get up to 40 percent lowering which is much more comparable to Lipitor."
The company began with eight employees and now has 13 people working in drug development, clinical testing and administrative capacities. While the first Esperion spent more time on drug discovery, Newton said the new company is focused on developing its primary product.
"We're pursuing a path that will allow us to take this drug through approval and onto the market ourselves," Mayleben said.
"However, we know from the original Esperion that if we keep our heads down and focus on doing great drug development then especially with the attracitive product we have a lot of people are going to be interested in acquiring us."
Pharmaceutical giants often acquire smaller drug companies because the process to take a drug to the FDA and then to the retail market can be extremely long and expensive. The most recent iteration of Esperion has been focused on developing the ETC-1002 drug since 2008 and is still at least 3 years from submitting an application for Food and Drug Administration approval.
"We're doing the kind of development that a large pharmaceutical company would do," Mayleben said.
"Roger [Newton] and the rest of the team have come from developing these kinds of drugs in large pharmaceutical companies, so the standards we're applying are similar in terms of the size and length of clinical trials we are performing."
The drug is currently in its second round of phase two clinical tests. Most drugs go through three phases of testing before the results are submitted to the FDA for approval. Phase one clinical tests is generally a small test in healthy patients that for most drugs is simply used to determine that they will cause no harm.
Testing periods for phase one are generally only two weeks, but that was enough showcase more than the fact that ETC-1002 did not have any severe negative effects.
"When you're lucky, like we were, you're able to see beneficial effects, even with otherwise healthy testers," Newton said. "Their cholesterol was actually lower in just two weeks of taking the drug."
Phase two testing involves small groups of patients and phase three typically includes at least 2,000 subjects. Once the last tests are completed, a waiting period has to be observed before results can be presented to the FDA.
A larger pharmaceutical company could acquire Esperion (again) before that occurs, but Newton has no plans to leave Michigan.
"This is a great place to live and thrive as a life sciences company," he said.
"The industry is doing very well here and there will be more of it. This is not just a one-off thing, you've seen a lot of other local companies doing very well, like AlphaCore that was just bought by AstraZeneca. We're not a fly-over zone when it comes to drug development."
Ben Freed covers business for AnnArbor.com. You can sign up here to receive Business Review updates every week. Reach out to Ben at 734-623-2528 or email him at benfreed@annarbor.com. Follow him on twitter @BFreedinA2