Posted on
Mon, Oct 3, 2011 : 5:58 a.m.
Ann Arbor city ordinance blocks Beer Depot's landmark 'Drive Thru' sign from being erected after it fell
By Lizzy Alfs
Photo from interfluence.com
One day in April, a strong gust of wind sent the flashy vintage "Drive Thru" sign for
The Beer Depot
, located on East William Street in downtown Ann Arbor, crashing onto the ground outside the long-time convenience store.
The vintage sign, which is believed to be about 50 years old, was significantly damaged.
When the owner of the store, Joe Kouza, went to pull permits to get the sign repaired and reinstalled outside his store, he was informed that a city ordinance would not allow it to be erected again due to city height, size and setback requirements.
As the sign sits in storage, The Beer Depot has launched a "Save Our Sign" blog to rally public support as Kouza considers taking the issue before Ann Arbor's Sign Board of Appeals.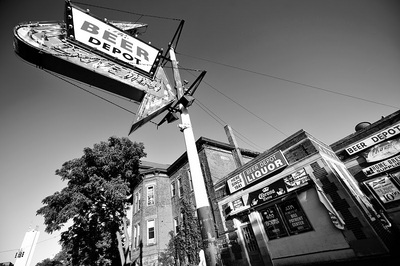 Ryan Stanton | AnnArbor.com
"We're mostly trying to gauge public interest first," according to The Beer Depot blog. "The appeal process with the city is a rather pricey pursuit, so we're taking our time, and will base a final decision on public input."
The "Drive-Thru" sign was installed sometime in the 1960s, when The Beer Depot was a drive-thru beer and wine convenience store, said Ian Gray, a media consultant for The Beer Depot.
"That house was built in 1875, and the attachment was built later as a pharmacy," he said. "It later became a tire business and then became the beer and wine drive-thru."
Although the business is no longer a drive-thru since Kouza acquired a liquor license in 2005, the sign has remained a staple at the convenience store.
When the sign blew down, Kouza was told that in order to erect the sign again, it could not be a replica and the costs of restorations to the original sign had to cost less than half of what it would cost for an identical new sign.
According to the ordinance, which restricts signs prior to May 1, 1975, "No nonconforming sign shall be repaired or erected after being damaged if the repair or erection of the sign would cost more than 50% of the cost of an identical new sign."
Gray said that because it would cost $11,000 to restore the vintage sign - much more than half the cost of a new sign - the only option is to take the issue to the Sign Board of Appeals.
"Although this building is considered historic, we think there's an odd conflict going on," Kouza said. "The Historic District Commission doesn't consider the sign historic, but almost anybody you would ask would say the building wouldn't be historic without the sign."
Gray said that to go to the Sign Board of Appeals, it could cost Kouza $6,000 in required design plans and fees, and there is no guarantee the appeal would be granted.
"This is definitely an impractical business decision," he said. "The owners are appealing to public sentiment to decide whether it's worth their expense. It's a rough economy and they are small business owners."
Wendy Rampson, the city's planning manager, said it's "premature" to indicate whether the appeal for The Beer Depot sign could be approved and erected again. She said the sign is too modern to be considered historic.
"There are dates of significance within districts where items were identified and considered historic," she said. "The sign is more modern than that."
Gray said that although the sign isn't technically considered historic, it's "an incredible slice of Americana."
"Regardless of whether it's immaculately maintained, the grittiness of it is what makes people say it's a classic piece of Americana," he said. "It's internationally known as a landmark, there's not just some small local sentiment about it."
Lizzy Alfs is a business reporter for AnnArbor.com. Reach her at 734-623-2584 or email her at lizzyalfs@annarbor.com. Follow her on Twitter at http://twitter.com/lizzyalfs.