Posted on
Thu, Aug 18, 2011 : 2:38 p.m.
Customers can't retrieve clothing from closed cleaners in Ann Arbor
By Lizzy Alfs
Some customers at the Colonnade Cleaners on Eisenhower Parkway have been missing their clothing since dropping it off in early July, when the business closed unexpectedly amid failure to make rent payments.
The storefront of the cleaners, located at 881 W. Eisenhower Parkway in the Colonnade Shopping Center, has been dark for weeks, although the business is still packed with unreturned clothing.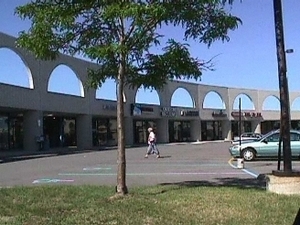 Photo from loopnet.com
Tom Goldberg
, an owner of the Colonnade Shopping Center, said the cleaners closed sometime in July without notifying him and the business is far behind in making rent payments.
"I don't have any clue where he is," Goldberg said. "It's kind of a mystery to me. He hasn't paid rent and he's way in arrears."
Goldberg couldn't put a figure on the total amount of money the tenant owes him.
The entity was registered to Susie Pang, but according to state records the business was dissolved in 2009. There's no updated ownership information available.
Now, Goldberg has started an eviction proceeding against the cleaners in a landlord/tenant action.
"This is just what I would call a normal landlord/tenant eviction, but it has a twist because it has stuff that belongs to third parties," he said.
Colonnade Cleaners customer Linda Edwards-Brown is concerned about when she'll get her clothing back from the cleaners. She said she dropped off the items for cleaning nearly eight weeks ago.
"I've been over there probably a dozen times or more," she said. "People have their clothes in there and can't get them out. I spoke with a woman who said she has $500 worth of clothing in there."
Because the business is still a tenant in the center, Goldberg said the owner has legal control over the premises, which keeps Goldberg from entering the locked building.
"It's all locked and we can't go in there," Goldberg said. "But the court order should take effect in the next two or three weeks, which would allow us in."
Goldberg, who has gotten several phone calls from concerned Colonnade customers, said that he'd figure out a way to return people's clothing once the court order takes effect.
"We will figure out a strategy to get people their clothes back, because I obviously have no interest in holding onto someone's clothes," he said.
Lizzy Alfs is a business reporter for AnnArbor.com. Reach her at 734-623-2584 or email her at lizzyalfs@annarbor.com. Follow her on Twitter at http://twitter.com/lizzyalfs.