Posted on
Thu, Jul 18, 2013 : 5:56 a.m.
Tamaki sushi restaurant coming to Ann Arbor's East Liberty Street
By Lizzy Alfs
The owner of Lansing-based sushi restaurant Tamaki plans to bring his fast-casual concept to downtown Ann Arbor this year.
Tamaki owner Frank Cheng signed a lease for the 1,864-square-foot space at 521 E. Liberty St., which was vacated by Rocky Mountain Chocolate Factory in April.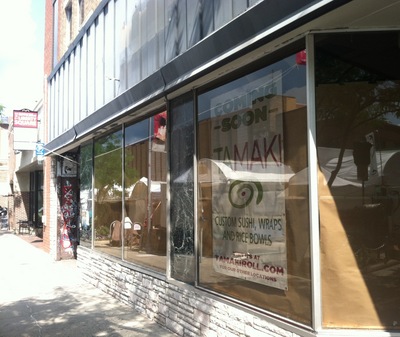 Lizzy Alfs | AnnArbor.com
"We had a lot of interest in the space and this concept seemed like a pretty good fit," said Swisher Commercial's Randy Maas.
Maas, along with Swisher's Mike Giraud, marketed the space for lease for an annual $40 per square foot.
Cheng opened Tamaki in Lansing in late 2012, and he's preparing to open a location in East Lansing in August. He also owns a full-service restaurant called Xiao China Grille & Lounge in East Lansing.
"I've been in the restaurant business since I was young," Cheng said.
"I like the Ann Arbor location because of the proximity to the university, and then of course, Google and Barracuda and all the young professionals that work and live there," he continued.
Cheng describes Tamaki as a fast-casual — but fresh — Asian restaurant. Customers can customize their orders, similar to a Subway or Chipotle, he said.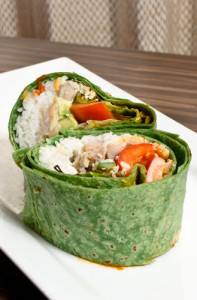 Tamaki Facebook page
"Basically, you get to personalize your food and choose what will go in your sushi, wrap or rice bowl," he said. "It's a really simple concept."
Customers first choose between a seaweed wrap, soy wrap, Korean BBQ wrap or rice bowl, which ranges between $5 and $6. Then they can add a protein — such as seafood, chicken, roasted tofu, or pulled pork — for about $1.50. Next, they can add up to four vegetables free of charge, and choose between six sauces. (See menu)
"We roll it all in front of you," Cheng said. "We're more of a fresh vegetable and fresh seafood restaurant, which you don't see a lot in quick-service. We're catering to the younger people that are looking for fresh ingredients."
Cheng hopes to start renovations soon, after he submits plans to the health and building departments. He plans to open Tamaki in October.
The East Liberty Street restaurant will have about 45 seats and Cheng plans to hire eight to 10 people.
Cheng said his long-term goal is to open additional Tamaki locations in the Metro Detroit area, and possibly franchise the concept.
Lizzy Alfs is a business reporter for AnnArbor.com. Reach her at 734-623-2584 or email her at lizzyalfs@annarbor.com. Follow her on Twitter at http://twitter.com/lizzyalfs.