Posted on
Fri, Nov 26, 2010 : 6:56 a.m.
Committed to deals: Black Friday shoppers brave lines. Long, long lines.
By Nathan Bomey
They are the most committed of Black Friday shoppers: the deal-hungry souls who brave hours of bitter cold temperatures and precipitation to land the best bargains of the holiday shopping season.
Despite a tenuous economy, some shoppers lined up for hours at big-box stores in the Ann Arbor area this morning to ensure they were able to secure the items they had highlighted on their shopping list.
At Target on Ann Arbor-Saline Road, several hundred shoppers were lined up outside the store by the time it was ready to open at 4 a.m. The line stretched several hundred feet, far past the Party City store in the shopping complex.
But when Saline resident Jennifer Jones and her daughter, Brittany, arrived at Target at 4 p.m. Thursday, there was no one in line.
"Nobody showed up til 7," Brittany said.
"We were the lone rangers," Jennifer added.
Rain on Thanksgiving Day turned into snow flurries early this morning -- and temperatures around 20 degrees Fahrenheit -- but the Joneses were ready for it. Sort of.
"I think if I start running, my toes are going to crack," Jennifer joked minutes before the store opened.
Security personnel at Target were positioned to keep people from jumping ahead in line or rushing into the store and causing a stampede.
At Best Buy on Lohr Road, security personnel and three Pittsfield Township police officers were repeatedly warning shoppers not to run into the store when it opened at 5 a.m.
"If you run, you're going to get kicked out," a manager declared to the line.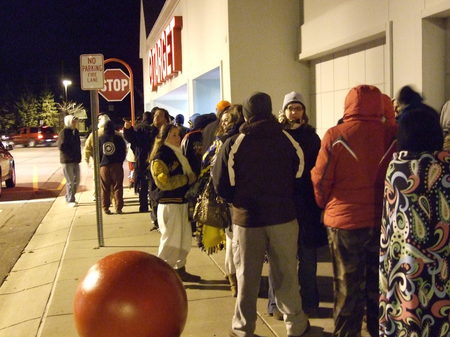 Nathan Bomey | AnnArbor.com
The line of shoppers waiting to get into Best Buy stretched around the back of the store.
The first shoppers in line -- a group of five cousins from Ann Arbor -- got to Best Buy at 1 p.m. Thursday. They camped out in a tent to shield themselves from the Thanksgiving Day rain.
The cousins came for the deals -- not to enjoy the Black Friday atmosphere.
"Much rather be in my bed right now," quipped Rajkaran Gill.
Inside local stores, lines varied in length. At Kohl's, which opened at 3 a.m., the checkout line had only a few dozen shoppers by 5:30.
At Target, the line stretched to the back of the store within 15 minutes of the store's opening.
Not everyone had to wait long at Target, though. Three shoppers snagged 40-inch LCD TVs and were already out the door within about three minutes of the store's opening.
John Van Hout of Lake Orion was standing outside Target at 4:10 a.m. with two TVs in his cart.
"I'm not going to keep them for myself," he claimed. "It's for other people."
Contact AnnArbor.com's Nathan Bomey at (734) 623-2587 or nathanbomey@annarbor.com. You can also follow him on Twitter or subscribe to AnnArbor.com's newsletters.