Posted on
Sun, Jul 11, 2010 : 6 a.m.
Ann Arbor-based Con-way Freight adds $5.4M in safety technology to semi-truck fleet
By James Briggs
Lon Horwedel | AnnArbor.com
A few weeks ago, Larry Potter was driving his tractor-trailer in the right lane of an interstate. Another driver, not wanting to wait behind Potter's semi, swung around on the left side and cut in front of Potter, crossing through his lane to exit the freeway on the right.
"They merged and (braked) to get off the exit," Potter said. "They couldn't wait an eighth of a mile."
Such maneuvers are common frustrations for semi drivers, whose vehicles are seen as nuisances to drivers of more nimble cars. Beyond frustrating, though, such moves also pose a danger to both drivers.
It's usually up to the truck driver to react to the vehicle cutting him or her off —Â and if the driver can't respond quickly enough, there can be an accident.
In Potter's most recent case, though, he had assistance.
Potter's company, Con-way Freight, an Ann Arbor-based subsidiary of Con-way Inc., has installed $5.4 million of safety technology in a new fleet of 2010-model tractors.
Among the upgrades are cameras that can detect a tractor's position in a lane and send a warning to the driver if it veers too close to the line, as well as a front-facing radar that responds to traffic.
When that vehicle cut in front of Potter, a veteran driver of 33 years, his tractor recognized the threat and responded before he did, automatically reducing his speed.
"If you get real close (to another vehicle), it will take away your throttle," Potter said. "If it gets even closer, it will actually start applying brakes."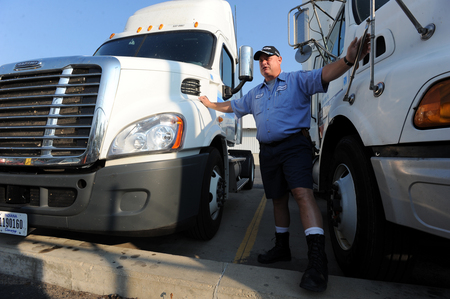 Lon Horwedel | AnnArbor.comThe technological investment seems like a small portion - about 5 percent- of the $100 million Con-way spent on its 1,300 new Freightliner Cascadia tractors.
But Con-way also spent 10 months testing the new technology in partnership with the Federal Motor Carrier Safety Administration and the University of Michigan Transportation Research Institute.
Eighteen Con-way drivers logged hundreds of thousands of test miles on trucks with the safety technology, and the results were convincing.
"We really only had one minor accident in 640,000 miles of travel," said Robert Petrancosta, vice president of safety for Con-way. "We felt very comfortable we were making the right decision investing in these technologies."
While many of the Con-way's new safety features score big flash points, some of the most basic functions have been the biggest hits with drivers, some of whom began driving the new vehicles in December.
Among the add-ons is an AM/FM radio that also receives satellite radio. That might sound as elementary as automobile technology can get, but radios don't come standard for many trucking companies.
"Imagine going on vacation and driving all day with no radio," Potter said. "Then, come back and do it again five days a week."
Drivers often bring their own radios with them, which can cause a distraction because it's not right in front of them on the dash.
"With the amount of time a driver spends in the cab, it's his office," Petrancosta said. "The more comfortable we can make it for a driver the better, but also it gets safer."
The new tractors feature bigger, more flexible chairs; windows with wider vantage points and mirrors that can be automatically adjusted — again, simple yet crucial upgrades.
The 1,300 tractors are just a start for Con-way, which has 8,500 units overall, including 30 at its Whitmore Lake location. But, for Potter, who drives 150-250 miles a day and is among the first to get the upgraded version, it's a good start.
"It's just an all-around nice tractor," he said.