Posted on
Sat, Sep 29, 2012 : 1:11 p.m.
Con-Way Freight employee named American Trucking Associations' Safety Director of the Year
By Ben Freed
When he was still in high school working a summer job, Robert Petrancosta happened to be the last person in the furniture warehouse. His boss asked him if he had a driver's license, tossed him the keys, and told him to take an order and deliver it to "old Mrs. So-and-so" who would be expecting him in an hour. That first truck drive would set him on a career path that he never imagined.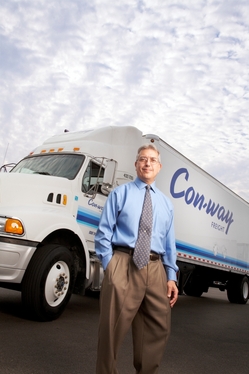 Courtesy Con-Way Freight
Petrancosta, now safety director at Ann Arbor Township-based
Con-Way Freight
, never left the transportation industry. Last week, about 43 years after his first delivery, the
American Trucking Associations
named him Safety Director of the Year.
"What's so great about the award is that it come from my peer group," he said.
"It's not really about me, my success depends on others and on my team. It's always rewarding for me to see the efforts of those who work with me in this department and for us to be recognized."
Petrancosta's responsibilities range from ensuring safety for Con-Way's drivers on the road, to ensuring that those loading the freight at the docks practice safe lifting and avoid back injuries.
"We have 21,000 employees, of which about 14,000 are drivers, and their work can be pretty dangerous at times," he said.
"If you think about the fact that we're driving trucks up and down the roads at a rate of 2.5 million miles per day. There's lots of potential for accidents and some of them can be serious. It can be a daunting task."
On top of his day-to-day responsibilities, Petrancosta also developed a patented placarding software program that helps companies know what labels need to be affixed to trailers to warn the public of hazardous materials. Petrancosta developed the program in 2000, and says it takes the various regulations for different substances and materials on-board and puts them into a "calculator" to determine which signage needs to be on the truck.
"It's being used by us, and by other companies that deal in freight," he said. "It's also being used by most enforcement officers in the United States today."
Everyone, including Con-Way Inc. President and CEO Doug Stotlar who first met Petrancosta on loading dock 20 years ago, was quick to point out that Petrancosta's experience as a driver has helped him to be an effective safety director.
"There is no individual in the less than truckload (LTL) industry with more credibility and respect as an advocate and a leader in motor carrier safety than Bob Petrancosta," Stotlar said in a statement.
"His credibility stems from his experience. When he speaks to our drivers about safety best practices and how to improve, they listen, because they know he comes from their world and understands the challenges and rigors of the job they do every day."
Petrancosta joined Con-Way Freight in 1988. Before he joined the company he went back to school at Waubonsee College in Illinois for a degree in hazardous material technology. He said the degree helped to give him a "trifecta" of knowledge that included experience as a driver, experience as a supervisor manager, and the education to give him a broader perspective. That combination allowed him to see that while the freight is important, it's not really what the transportation industry is about.
"This is not just an industry that moves freight, this is an industry of people that move freight. And we have to remember to put the people first," Petrancosta said.
"People have a better understanding of safety when they personalize it."
Ben Freed covers business for AnnArbor.com. Reach him at 734-623-2528 or email him at benfreed@annarbor.com. Follow him on twitter @BFreedinA2