Posted on
Wed, Nov 28, 2012 : 2:59 p.m.
Confession of a first-time Powerball lottery player (and future millionaire)
By Ben Freed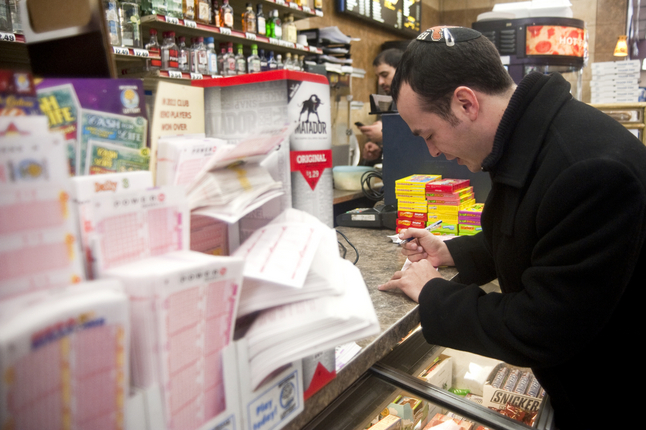 Joseph Tobianski | AnnArbor.com
I know the chances of me winning the jackpot are not high. To be exact, they are
1 in 175,223,510
.
I've seen the websites with posts about how I'm more likely to die from being left handed (even though I'm right handed) than to win.
But come on, someone is going to walk away from this Powerball with at least $550 million, why not me?
The last time I bought a lottery ticket I was 18 and the losing scratch-off ticket went into the trash along with the cigar I never ended up smoking. My parents always called the lottery the stupidity tax, and I was taught to look down on those who wasted their money playing games they were rigged to lose.
But it's $550 million.
Everyone thought that Nate Silver's statistical analysis would go out of style after the election, but it's returned as probabilities and the worth of buying a ticket are hotly debated across the country.
I spent the better part of 10 minutes this morning explaining to a co-worker that my odds of winning this Powerball are equivalent to me winning any other Powerball drawing. If you're interested, it's because the likelihood of the six numbers I chose being selected by the random machine doesn't change no matter how many people buy tickets or how many weeks it has been since the last winner.
With the odds the same as in any week's drawing, it actually makes sense that more Americans would buy tickets as the jackpot goes higher. With equal odds but a higher potential return on investment, one could almost make the argument that my $2 purchase was a "smart buy."
Or maybe it's just the $550 million talking.
Diag Party Shoppe owner Jerome Kamano said there isn't even a word for how much bigger business has been since the jackpot hit half a billion.
"There was a line here all morning. And I'd say 70 percent of the people who are playing are like you, never done it before," he said.
"They ask me 'what is it?' 'How do I win?' 'What channel will the results be on?' I tell them they have a smartphone so just Google it tonight [Wednesday night]."
Admittedly, when I walked into the Party Shoppe last night to buy my first ticket I was about as clueless as the rest of them. I had to be walked through the process of picking 5 "white" numbers and one red "power" number.
"You can do it yourself or the machine can pick them for you," Kamano said. "It's been about 50/50 with people picking their own numbers."
I wasn't about to let a machine decide what could be the most monumental choices of my life. Besides, at the press conference when I win I want to be able to tell the world why I chose every number.
I can't give away my numbers (I don't want anyone out there buying the same ticket so I have to split the winnings!) but for the record: I went with my birthday and month, my sister's favorite number, my dad's age, and the year the University of Texas chapter of my fraternity was founded. My power number was a number with special significance in the Jewish tradition.
Another co-worker asked me what the odds were that all of those numbers that held significance to me would be chosen. The answer of course is 1 in approximately 175 million, exactly the same as any other combination.
But mine will be the one that wins $550 million.
I haven't decided yet what I'm going to do with the money once I win. Obviously I'll give a large amount to charity and I'll invest a good amount so that it can last me for a long time and… Oh no! Stop! Remember the odds!
Other people threw far more into the jackpot than I did. Kamano said one man bought 300 tickets at once Wednesday morning. I will not be a regular lottery player after this experience (unless I win) but there was a definite adrenaline rush in throwing my $2 into the hat for the chance at a monstrous payday.
In fact, when I went back to the Party Shoppe to talk to Kamano on Wednesday afternoon about how many people had bought tickets, I couldn't help myself. I bought a second ticket.
I know that my high school math teachers will be very disappointed, but my statistics skills are not strong enough to tell me what my new odds are now that I have two tickets in the game.
All I know is that I have a chance (or two) at $550 million.
Ben Freed covers business for AnnArbor.com. You can sign up here to receive Business Review updates every week. Reach out to Ben at 734-623-2528 or email him at benfreed@annarbor.com. Follow him on twitter @BFreedinA2