Posted on
Wed, Jan 6, 2010 : 5:45 a.m.
Conservative on campus? David Brandon's hiring carries political ramifications
By Nathan Bomey
The intersection of David Brandon's conservatism with the University of Michigan's liberalism could be cause for political fireworks.

But the political differences between Brandon and U-M are unlikely to create a problem for the university, which announced Tuesday that Brandon would become its next athletic director.
"Do you think the Maize and Blue fans in Michigan Stadium care whether the AD has an 'R' or 'D' beside his name? I don't think that's going to matter," said John Bebow, executive director of think tank The Center for Michigan.

"It seems to me the street-level expectation is they want a winning and clean program. I don't think his political affiliation will matter much."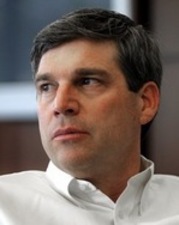 U-M's decision to hire Brandon effectively ends speculation that Brandon may run for the 2010 Republican gubernatorial nomination.

Brandon, one of Michigan's most prominent conservatives, is signing a 5-year contract, but it's not his first leadership role at the left-leaning public university.

He's a former member of the U-M Board of Regents, which is dominated by liberals. Partisan conflicts were few.

"They all pretty much worked together," said Tom Shields, president of Lansing-based political polling firm Marketing Resource Group. "I don't think you found many philosophical splits."
Brandon's conservatism is well known. His many political donations include a $10,000 donation to the Republican Party in August 2008, for example, and he supported U.S. Sen. John McCain, R-Ariz., in the 2008 presidential election.

Brandon, who's leaving his job as CEO of Ann Arbor-based Domino's Pizza, has long been rumored as a potential Republican gubernatorial candidate. But he's always denied being interested in the job.
So at the very least Brandon's hiring colors the complexion of the state's shifting political future.
"David Brandon literally takes himself out of politics for the most part, at least for the next 5 years while he's in that office," Shields said.

The announcement about Brandon's new role came as Michigan Lt. Gov. John Cherry, widely considered the favorite for the Democratic gubernatorial nomination, said he was withdrawing from the race due to lack of funds.
"It changes the landscape for the gubernatorial race," Bebow said.
Cherry's exodus is a crisis for the Democratic primary, which has to fill the void quickly with a candidate who has a chance at winning. "There's a vacuum on the Democratic side right now," Bebow said.
On the Republican side, Attorney General Mike Cox, Oakland County Sheriff Michael Bouchard, U.S. Rep. Peter Hoekstra and Ann Arbor venture capitalist Rick Snyder are the top 4 candidates.
Brandon's decision not to run for governor could boost Bouchard and Snyder. Brandon donated funds to Bouchard's U.S. Senate campaign in 2006.

But Brandon's decision could also benefit Snyder, former president of computer maker Gateway Inc., because it solidifies the chance that he will be the only business person in the race.
Shields said polling data indicates that the Republicans have a significant advantage in the gubernatorial race, particularly because many voters are disenchanted with Democratic Gov. Jennifer Granholm. But he said none of the Republicans has established himself as the front runner.
That may be why, as Brandon publicly discussed his new role at U-M on Tuesday, he was forced to fight off suggestions that he might have his eyes on the gubernatorial prize. He said he was "committed to the university."
"I'm the athletic director at the University of Michigan," he told reporters. "This is what I want to do."
Contact AnnArbor.com's Nathan Bomey at (734) 623-2587 or nathanbomey@annarbor.com. You can also follow him on Twitter.