Posted on
Thu, Nov 3, 2011 : 5:59 a.m.
Construction imminent for 2 new hotels in Ann Arbor
By Paula Gardner
Site work preparation is under way for two new hotels that will be constructed in Ann Arbor on an 8-acre site adjacent to Briarwood Mall.
The Raymond Group, based in Middleton, Wisc., is lining up permits for the project that was approved in 2009, said City Planner Chris Cheng.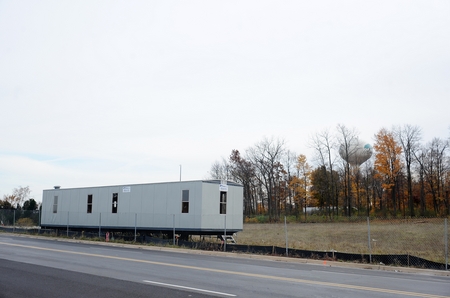 Melanie Maxwell | AnnArbor.com
The hotels - a Hilton Garden Inn and Towne Place Suites by Marriott - will add a combined 227 rooms to the 4,000-room Washtenaw County hotel market.
The developer bought the property from an entity that formerly owned Briarwood Mall, paying $1 million in December 2009. Located next to Interstate 94 at 1301 Briarwood Circle, south of the JC Penney store's southwest entrance, the property has been enclosed with fencing and a construction trailer now sits at the edge of the entrance.
The company's website notes that the 8-acre property "is located about three miles south of downtown Ann Arbor and the University of Michigan campus, and two miles south of the University of Michigan football stadium known as 'The Big House.' The hotels will be the newest hotels in their competitive set amongst a variety of older properties."
That raises the competitive factor among other Ann Arbor hotels, said Chuck Skelton of Hospitality Advisors. He said the new hotels aren't likely to create new demand and will be trying to draw customers from the existing market.
One example of their possible impact: "(They) could hurt outlying hotels from Chelsea, Milan during home football games," Skelton said.
Washtenaw County's hotel market is the best in the state, with a 60 percent occupancy average through the first half of the year - and an average rate of $84 per booked room. That compares with a 51 percent occupancy average across Michigan.
However, the county's hotel market also is still suffering from the overall industry downturn, seeing average occupancy fall from 63.1 percent in 2008 to 58.9 percent in 2009.
Still, Ann Arbor has attracted attention from multiple hotel operators even during the downturn, including one that sought to develop downtown and others that wanted to build on top of the "Library Lot." On the outskirts of town, one hotel project stalled on Jackson Road during the recession, while the Hawthorn Suites in northeast Ann Arbor was listed for sale after the lender foreclosed.
"I think Ann Arbor is perceived as being … the most consistent and strongest market, but it's also somewhat of a fragile market because it's a small market," Skelton said.
The properties next to Briarwood Mall are listed as four under development by The Raymond Group, which did not return a call seeking comment. The other two are in Texas.
One of the hotels will be a four-story, 97-room Towne Place Suites, a Marriott brand with 190 locations in the U.S., according to its website. Seven operate in Michigan, including five in Metro Detroit and locations in Kalamazoo and East Lansing.
Its format caters to the extended-stay business traveler, with amenities like a 24-hour market and on-site laundry. Layouts include studios, one- and two-bedroom suites with full kitchens.
The Hilton Garden Inn property will be a 130-room facility with restaurant and pool, according to the plans approved by the city. The global chain is opening about two dozen new hotels this year, according to its website.
Brinkmann Constructors of Chesterfield, Mo., will be the general contractor, according to city documents.
The Raymond Group operates in eight states, and these facilities will mark their entry to the Michigan market.
"They have some strong brands in their portfolio," Skelton said. "… I just hope they're realistic about what kind of rate they can achieve here."
Paula Gardner is news director of AnnArbor.com. She can be reached by email or followed on Twitter.