Bongs & Thongs store in downtown Ann Arbor delayed after city officials raise questions
Posted on Mon, Aug 1, 2011 : 2:49 p.m.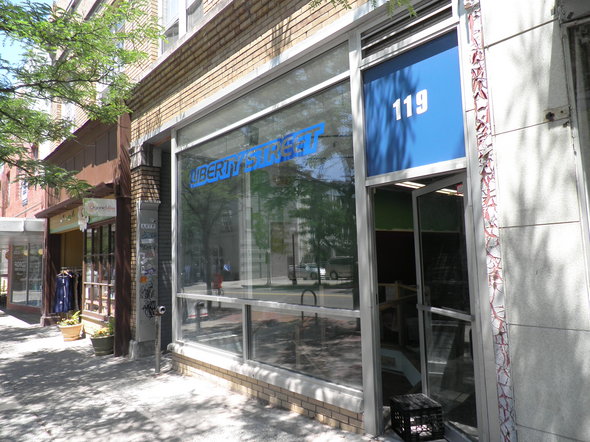 Lizzy Alfs | AnnArbor.com
(See previous story: Meet downtown Ann Arbor's newest retail destination: Bongs & Thongs)
Construction on a new downtown Ann Arbor shop called Bongs & Thongs has stopped after city officials questioned whether the city's zoning ordinances would prohibit the store from selling certain products.
A "Notice to Stop Work" sign was recently placed in the window of the store by the city of Ann Arbor. It cites "construction without valid permits" as the violation and requires that all construction work be stopped.
According to city documents, the store has been denied a re-occupation application for the 2,600-square-foot space, formerly occupied by Liberty Street Video.
"There's a problem with the store's zoning with the items they were planning on selling," said Brad Ruppel, a development inspector at the city of Ann Arbor.
The store, which plans to sell adult novelties and "head shop" products, originally wanted to open by the Ann Arbor Art Fair on July 20. Storeowner Kilo Hassan signed a one-year lease for the space in June.
But city ordinances have delayed the store opening, said Hassan.
The city's zoning ordinance does not allow the sale of "devices of simulated human genitals or devices designed for sexual stimulation" in the D1 District of downtown, according to city documents.
Hassan said he is reapplying for the license, and will not carry any of these products in the store. He said the adult novelties section of Bongs & Thongs inventory will include games, massage lotions and oils, body jewelry, party supplies, lubrication and beauty supplies.
The "head shop" section of the store will carry hookah products, hand-blown glass tobacco products, hose cleaners, decorations, incense and posters.
Hassan said he hopes to have a new inspection completed soon and have the store open within ten days.
"If all goes well, hopefully we'll be open in a week to ten days," he said.
The City of Ann Arbor's planning department could not be reached for comment regarding the status of the retailer.