Posted on
Tue, Dec 7, 2010 : 6:02 a.m.
Cosi closing on Ann Arbor's South State as La Marsa restaurant leases space for 5th Michigan location
By Paula Gardner
AnnArbor.com files
Cosi will close on South State Street in Ann Arbor by Jan. 31, when the new tenants — partners in a string of Oakland County Middle Eastern restaurants — will start converting the space into their fifth location.
La Marsa Mediterranean Cuisine cuisine should open at 301 S. State St. by early May, said Fidel Gannouni, a co-owner.
"We want to make the place nice," Gannouni said. "… You'll think you're in Dubai or Egypt."
Signing the deal for the space at the end of November ended a two-year search for a space in Ann Arbor, Gannouni said. His two partners in the venture are Moe el-Nagar and Adel Ahmed.
Part of it was the location near campus, though he said he wants to attract non-student customers as well, he said.
And part of the draw to Ann Arbor was its reputation among his clientele and in his homeland of North Africa, he added.
"Everyone back home always raves about Ann Arbor."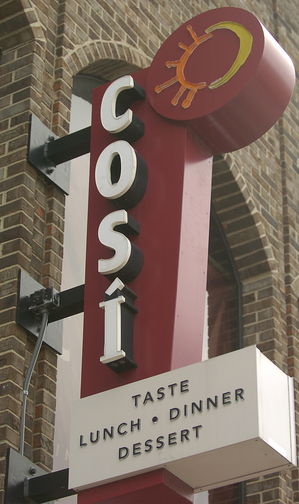 AnnArbor.com files
The move into the building near East Liberty comes nine years after Cosi, based in the Chicago area, opened in the location.
Building owner Ed Davidson would not comment on why Cosi was leaving. Corporate officials did not return a call seeking comment.
However, Davidson said, La Marsa "is going to be a great addition to the street."
The location will give the street another sit-down restaurant option. That's important as multiple fast-food outlets open on South State, sending some theater-goers and Hill Auditorium patrons toward Main Street when they attend events near South State.
Davidson, who also owns and operates Bivouac on South State, said there was lots of interest in the space.
"Because it's on the magic street," he said of all of the pedestrian traffic there.
But, he added, he "had to be aggressive at finding people who fit the bill and not be fast food."
The move, he said, "will fill a void in a spot that I own but also add to the street and bring people down here."
He believes he found it in La Marsa, which Gannouni says tries to create a memorable dining experience.
"We want to make this place nice," he said. Patrons will be greeted by staff, there will be table service, and food will not be served with plastic tableware or on paper plates."
The menu will feature many Mediterranean favorites, with higher-end dishes offered alongside lunch specials. All means focus on healthy ingredients, Gannouni said.
Cosi [NasdaqGM: COSI] is a fast-casual chain that has about 140 locations in 18 states, about 40 percent of which are franchises. Its market capitalization as of market close on Monday was $58.1 million, based on a per-share price of $1.14.
The company was warned that it could face Nasdaq delisting over the summer, as its stock price fell to 49 cents.
Cosi's third-quarter net loss was $1.096 million, down from a net loss of $2.36 million a year earlier.
Paula Gardner is Business News Director of AnnArbor.com. Contact her at 734-623-2586 or by email. Sign up for the weekly Business Review newsletter, distributed every Thursday, here.