Posted on
Thu, May 24, 2012 : 5:58 a.m.
Cottage Inn scales back plans for pizza delivery at MIS on NASCAR weekends
By Pete Cunningham
NASCAR fans hoping to have a pizza delivered to their camper at Michigan International Speedway at 3 a.m. on race day are in for a disappointment.
That service won't be available this June.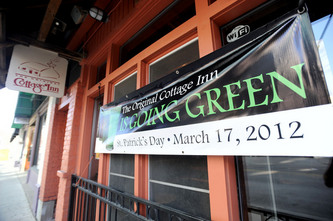 Angela Cesere | AnnArbor.com
Ann Arbor-based
Cottage Inn Pizza
, which became the exclusive pizza vendor for
MIS on NASCAR weekends back in April
- only plans to deliver from 5 p.m.-midnight during race weekends.
Cottage Inn originally announced it would provide 24-hour delivery service, but marketing director Bob Miller said the plan was a bit over-ambitious. There are roughly 9,000 campsites on the MIS property, which is situated on 1,400 acres in Brooklyn.
"We examined it and because of the sheer volume, you're looking at a staffing issue and just the logistics of being in the campgrounds and serving that all night long, that would be tough on the crew," Miller said.
Miller said more than 40 staff members will be working during NASCAR's first race weekend, June 15-17, in addition to several volunteers, including the University of Michigan men's club rugby team.
Cottage Inn CEO Bob Brosnahan acknowledged the delivery service would be a challenge when the deal was originally struck.
Instead of delivering to individual campsites as originally planned, Cottage Inn will set up eight drop off locations around campground where fans can pick up their pizzas from 5 p.m.-midnight.
At the time of the original deal, MIS media relations manager Brad Kuhbander said, "When campers are back at their campsites and they get hungry, now they can order a pizza all night."
That's no longer true, though there will be two locations around the campground where race fans will still be able to get pizza around the clock.
"Twenty-four-hour delivery to individual sites) was the initial plan, but sitting down with MIS we decided to try out the drop zones, at least for the first race," Miller said.
Miller hopes to eventually be able to provide the service as originally planned and said if it is feasible Cottage Inn will experiment with going to individual sites in June.
"Depending on the rush, we may be able to facilitate a way in which we can go to specific campers and RVs at certain points," Miller said. "This is a starting point…for this first (race) we just want to get out there and see how things go."
Contact Pete Cunningham at petercunningham@annarbor.com or by phone at 734-623-2561. Follow him on Twitter @petcunningham.