Posted on
Mon, Jun 13, 2011 : 1:55 p.m.
Couples say they haven't been refunded deposits after inspectors shutter Barnstormer wedding hall
By Nathan Bomey
Three couples told AnnArbor.com they have not received a full refund on their deposits after an Ann Arbor area wedding destination's banquet hall was forced to close when officials declared a "potential for catastrophe" at the popular venue.
After AnnArbor.com published a story Sunday reporting the details of a 74-page report delivered by outside inspectors hired to examine Barnstormer Entertainment Complex in Green Oak Township, more couples emerged to discuss how their wedding plans were disrupted, too.
Brian Snyder of Ypsilanti said he and his now-wife, Mary Snyder were told April 30 that Barnstormer could not hold their May 6 wedding reception as previously scheduled in its upstairs banquet hall.
"We're very shocked to hear that people are still hearing about this," Brian Snyder said today. "It's like they did this on purpose to keep the money."
He added: "We didn't want to see more people get burned like that. … They told us they were going to tell (all affected couples) that week. People would have had time to do things had they done that."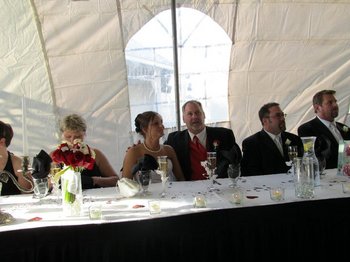 Photo courtesy of Brian and Mary Snyder
Whitmore Lake resident Adam Myers said today that he and his then-fiancee, Amber, were told on May 6 that their May 20 wedding could not be held in the banquet hall. He said the owner told them Barnstormer would find a tent and set it up by May 13 to accommodate the couple's wedding and reception.
A week before the wedding, "they told us they couldn't get a tent because they couldn't get the right permit or whatever," Myers said. "We feel like we were completely misled."
The couple weren't willing to risk an outdoor wedding in May in Michigan without a tent. So they secured a new, more expensive location, Tyrone Hills Golf Course in Fenton, which was able to accommodate their wedding.
Myers said they had placed a $2,000 deposit with Barnstormer. He said that after their plans were disrupted, Barnstormer agreed to deliver a chocolate fountain and a cake for the wedding at Tyrone Hills — which did happen. Myers said that Barnstormer still owed $800 but that the couple agreed to reduce the amount owed to $500.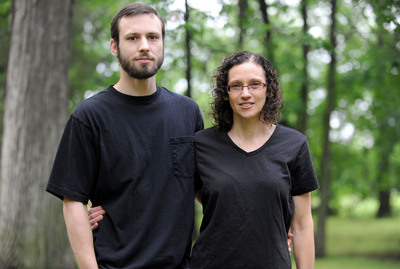 Angela J. Cesere | AnnArbor.com
"We had to work out an agreement that when he got some check by the end of the month through some promotion he did, then he would have the rest of the money to pay our our deposit," Myers said.
"We were trying to work with them," Myers said. "You just want to be out of it and move on from it. He agreed to pay us $500, but we haven't heard from him. We're still waiting for the check."
The Snyders, meanwhile, had already deposited $4,000 for their May 6 wedding when they found out about the banquet hall's closure. They were set to pay an additional $4,000 to complete their required payment on the wedding reception, but Brian Snyder said Barnstormer agreed to waive the additional $4,000 after their wedding had to be moved outside to the fenced-in area behind the facility.
But moving the wedding outdoors to a concrete patio turned out to be a mess.
"During our wedding itself, it rained and poured," Snyder said. "It came down big time. Basically my wife's dress got ruined because outside the ground was wet. Dragging on that wet and dirty ground, the wedding dress got destroyed. It can't be cleaned."
Barnstormer had promised a 100-foot-by-30-foot tent but delivered an 80-foot-by-30-foot tent, Snyder said.
"It was really tight inside," he said.
Rob Cortis, Barnstormer's owner, did not respond to multiple requests seeking comment today.
Asked last week whether Barnstormer had informed future wedding couples that the venue's capacity had been restricted, he first said: "We are informing and dealing with the potential customers in the order of their functions, getting one function taken care of and moving on to the next one. We are letting them known that we have to do a room change. We're working in every capacity to accommodate, assist and direct the bride in their room changes."
Later in the interview, he said he had "already talked to some of the customers" with events scheduled in July, August and September.
"We're keeping them posted," he said.
Part of Barnstormer's appeal, couples say, was that it offered a full package that included wedding, reception, decorations, cake, a DJ and champagne.
"It was like a one-stop shop," Myers said. "We can just show up and they'll have everything ready."
Saline resident Annette Calhoun and her fiance, Steve Verhelle, told AnnArbor.com last week that they are still waiting to receive a refund on their $1,500 deposit for their June 18 wedding at Barnstormer.
They said they were told about the banquet hall's closure on June 6. They were able to secure a new destination and caterer for their wedding — Ann Arbor Country Club with PrimOvations — but they had to borrow money from family members to make up for the lost deposit.
Inspectors hired by the township found that the 25,000-square-foot Barnstormer facility's banquet hall has insufficient exits and emergency lighting, exit doors locked with dead bolts, lack of enough level flooring and stairways that are too narrow to make for a safe exit in the event of an emergency.
A review of township records showed that multiple expansions had occurred without permits or certificates of occupancy, the officials found.
The inspectors — Integrity Diagnostics' Dale G. Stevens and WRJ Associates' Wayne R. Jewell, both hired by the township — recommended that the entire business be temporarily shut down and forced to stay closed until fire inspectors can examine the facility and renovations are complete.
That should include "the redesign of the entire facility with the primary goal of reconstructing the entire facility to meet the minimum requirements" of state building codes, the inspectors wrote.
A hearing is scheduled for July 12 to allow Barnstormer "to show cause why the building or structures should not be ordered demolished or renovated and made safe," Greek Oak Township interim building official Wayne Jewell wrote in a notice sent to Barnstormer last week.
After the hearing, the township Board will have the authority to take action.
Contact AnnArbor.com's Nathan Bomey at (734) 623-2587 or nathanbomey@annarbor.com. You can also follow him on Twitter or subscribe to AnnArbor.com's newsletters.