Posted on
Thu, May 3, 2012 : 5:59 a.m.
Michigan crop freeze forces Cherry Republic to order millions of cherries from Poland
By Lizzy Alfs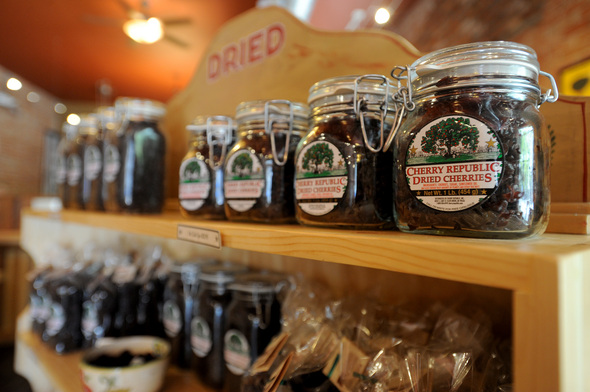 Angela Cesere | AnnArbor.com
Don't be surprised to see the Polish flag hanging in Michigan's four
Cherry Republic
stores this year.
The Michigan-based retailer — which has stores in Glen Arbor, Traverse City, Charlevoix and Ann Arbor — is one of many businesses in the state dealing with the effects of unusually warm weather in March followed by multiple spring freezes.
With the majority of Michigan's expansive cherry crop destroyed by this weather, Cherry Republic President Bob Sutherland said he was forced to think outside the box in order to continue selling his variety of cherry products.
His solution: Ordering millions of cherries from the Lublin region in Poland.
"We needed to be proactive," Sutherland explained. "So I ordered 150,000 pounds (of cherries) from Poland so far and got the last of what they had in storage."
In a typical year, Michigan supplies 70 to 80 percent of the country's cherry supply with the roughly 2 million cherry trees that are spread across northern Michigan. Cherries are harvested, pitted and flash frozen, and then they can be dried or used in other products, such as pies and jams.
Although it's still unclear just how badly the Michigan crop has been harmed, Sutherland estimated more than 80 percent of the year's crop is ruined — a loss of more than a hundred million pounds of cherries — and many farmers have temporarily halted sales to retailers.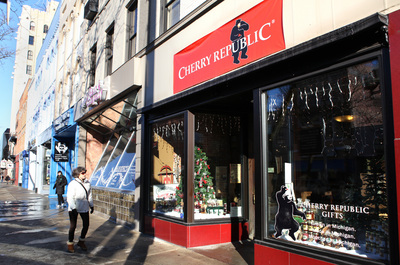 Joe Sainlar | AnnArbor.com
"At first, everyone up here was watching the weather with fingers crossed or hands in prayer," Sutherland wrote in a blog post. "Finally, about everyone tossed their hands up in disgust, completely exhausted from this whipping by Mother Nature."
A smaller amount of cherries are grown in other states in the U.S., including Washington, Oregon and Utah, but Sutherland said ordering cherries domestically is highly competitive right now due to the limited supply.
"We're trying our best to get some cherries from out west, and we've had some success on a small scale," he said, "but there is a whole cherry industry and we're just a small player in this."
To help solve the issue, Sutherland and his team members called cherry suppliers all over the world, resulting in a deal with Polish suppliers. He said Cherry Republic will continue to work with Poland throughout 2012.
Poland's tart cherries are very similar to those grown in Michigan, making them a practical option for Cherry Republic's products.
But even with millions of cherries coming from Poland, supply is still going to be limited for the retailer — which typically sells 1 million pounds of cherries in a year.
To help extend the supply, Cherry Republic has "signed a temporary truce with cranberries" for the year in what Sutherland coins "Operation Temporary Necessity."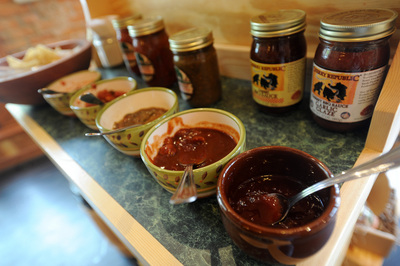 Angela Cesere | AnnArbor.com
"We will be mixing in dried cranberries (from Wisconsin) into several of our dried cherry and chocolate covered products," he said.
But, he added: "Our century old battle with cranberries will never be over. In 2013, we will be back knocking them silly in the marketplace."
Cherry Republic also plans to hold off producing about 20 of its smaller niche items in order to use cherries for the company's biggest sellers: chocolate covered cherries, cherry nut mix and cherry salsa.
This crop freeze won't just affect retailers; customers should plan on seeing increased cherry prices this year.
Sutherland said the price of a 1-pound bag of dried cherries will jump from $12.95 to $18.95.
"That's probably where people will feel the price the most," he said. "We're going to try to limit the price increase on the other products."
But Sutherland said customers will still be able to enjoy the expansive selection of samples at the downtown Ann Arbor retailer — which is located on one the city's most prominent corners at Main and Liberty streets.
Aside from prices, the crop freeze is also going to affect hundreds of jobs across the state.
"This is going to affect lives in a way that we haven't experienced before in Michigan agriculture," Sutherland said. "With the Poland cherries, (Cherry Republic is) going to keep our bakers, driers, jam makers and store clerks busy. That's critical."
As a retailer that prides itself on carrying Michigan grown products, Sutherland said Cherry Republic plans to "humbly and with good humor go along with business" this year, despite the devastation to Michigan's crops.
And for fun, he added, "We will be flying the Polish flag all summer."
Lizzy Alfs is a business reporter for AnnArbor.com. Reach her at 734-623-2584 or email her at lizzyalfs@annarbor.com. Follow her on Twitter at http://twitter.com/lizzyalfs.