Posted on
Sun, Oct 24, 2010 : 6:01 a.m.
Ann Arbor's Crown House of Gifts marks 50th anniversary - and it's stlll expanding via Ideation spinoff
By Janet Miller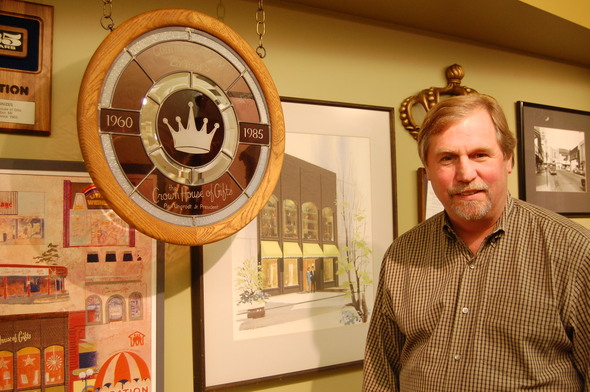 Janet Miller | For AnnArbor.com
The year was 1960 and Paul "Skip" Ungrodt had a novel idea: Gifts and greeting cards naturally complement one another. Why not sell them under one roof?
What seems obvious today was a light bulb moment at the time. Ungrodt opened a snug, 1,000-square-foot gift and greeting card storefront in Adrian, selling $38,000 in volume that first year. About 90 percent of business in those early years was in Hallmark cards.
Today, Crown House of Gifts and its spinoff, Ideation, the nation's first and largest gift catalog for independent gift retailers, are marking the Ann Arbor-based company's 50th anniversary with special events that end today at Crown House of Gifts in the Traver Village Shopping Center.
Ungrodt become one of the first independent store owners in the state to sell Hallmark cards. The Crown House name was inspired by the Hallmark crown logo.
Skip Ungrodt is gone - he died seven years ago - but his son, Tom Ungrodt, bought the family business from his father's estate.
Ungrodt paid his dues: He has worked for the company since 1978, watching it become a national company with a reach from coast to coast, but still maintaining three Crown House of Gifts storefronts.
Despite all of the changes over the five decades, the business still operates on the same premise, Ungrodt said.
"We're all about having the hot items at the right time. We're a store of emotion."
There have been shifts brought on by the new technologies. "Young people don't buy cards anymore and we've had to respond," Ungrodt said.
His stores have shifted their emphasis from cards to gifts and clothing. Today, only 35 percent of sales come from greeting cards, Ungrodt said.
Crown House has seen other changes over the years: Five years after opening his first store, Ungrodt and two other independent gift store owners who also sold Hallmark came together to discuss ways they could work together to plan, purchase and promote their products. The partners began publishing a gift catalog under the Ideation name.
Tom Ungrodt's mother found the word, which means idea creation, in a crossword puzzle. Ungrodt eventually bought his partners out.
The catalogs carried the same products, but the cover was personalized and imprinted with each store name. The first catalog, small and printed in black and white, covered six stores. Today, some 400 stores in 40 states use the catalog. Ideation prints six different fall catalogs and three different spring issues. The company's fall print run was 3.5 million pieces, Ungrodt said.
In the mid-1960s, an Ann Arbor store was opened on State Street. The 1970s and 1980s saw aggressive expansion.
"It was maybe a little too aggressive," Ungrodt said. "We bit off more than we could chew, and we struggled." The company even expanded to Somerset Mall in Troy when it first opened.
The dust from those days has settled. Today, Ungrodt owns two other stores in addition to Ann Arbor, Crown and Carriage in Jackson and Dayspring Gifts in Chelsea, along with Ideation.
The company is looking to grow in different places: For the first time, Ideation this fall published a toy catalog for independent toy storeowners. They have close to 25 stores on board, and are pitching the concept to 500 to 600 independent toy stores with a mailing later this month.
"We're using the Ideation model," Ungrodt said. "It's a good diversification." He expects 100 stores will be using the catalog a year from now.
Quality toys, Ungrodt said, show potential growth and are more recession proof than many other product lines. Baby boomers are moving into grandparenthood, making them potential toy customers.