Posted on
Wed, Jun 12, 2013 : 5:53 a.m.
Dahlmann Properties buys high-profile Ann Arbor office building for $10.6M
By Lizzy Alfs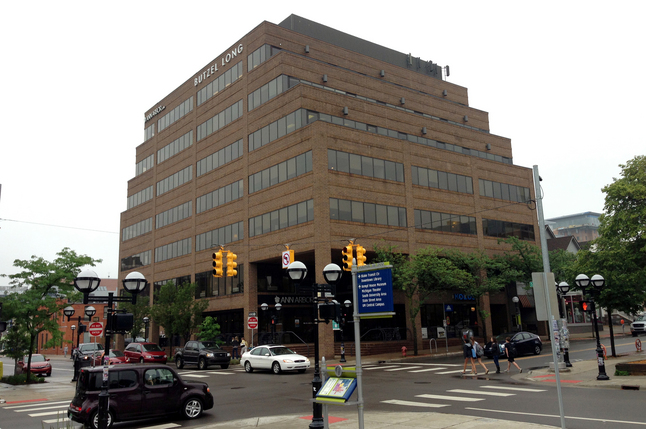 Melanie Maxwell | AnnArbor.com
Editor's note: This article has been corrected to reflect that Mike Giraud represented Larson Realty Group in the transaction.
Ann Arbor's Dahlmann Properties finalized a deal Monday to purchase a high-profile office building on the corner of Ann Arbor's South Fifth Avenue and East Liberty Street.
The company, owned by Dennis Dahlmann, purchased the seven-story, 95,000-square-foot building at 301 E. Liberty St. from Bloomfield Hills-based Larson Realty Group for $10.6 million, property records show. Swisher Commercial's Mike Giraud represented the seller in the deal.
"301 E. Liberty is being returned to local ownership and management for the first time in 20 years," Dahlmann said in a written statement.
"It is a trophy building in an excellent downtown location," he added.
Constructed in 1986, the building sits along the key corridor between Main Street and the Univeristy of Michigan's campus. Tenants include: MLive Media Group/AnnArbor.com, Butzel Long law firm, DHR International, JSTOR, BraveSoft, Oppenheimer & Co., Young Basile law firm and Kolossos Printing.
Dahlmann said the building is fully occupied and in "excellent condition." He said he likely will make minor improvements to the lobby and stairwell areas.
City records show two previous building sales: JFK Investment Company purchased it for $5.25 million in 1993, and Larson Realty Group purchased it for $9.6 million in 2001. The building was listed for sale again in 2008, but it was later taken off the market. The property has a 2013 assessed value of about $5.82 million.
Dahlmann Properties owns Ann Arbor's Bell Tower and Campus Inn hotels. The company also owns a number of commercial properties, including the City Center Building at 220 E. Huron and the KeyBank Building at 100 S. Main.
"Operating efficiencies and synergy will come from the fact that 301 E. Liberty is only a few blocks from two of our other downtown office buildings, the KeyBank Building and the City Center Building, where we already have a veteran office management team in place," said Ben Dahlmann, the company's senior vice president..
In an email circulated to the building's tenants on Monday, Larson Realty Group CEO Eric Larson said his company "enjoyed being a part of Ann Arbor" through its ownership of the building. 301 E. Liberty was the only Ann Arbor property in Larson Realty Group's portfolio, which includes properties in Birmingham, Troy, Southfield, Warren and Detroit, among other places.
In February, Eric Larson was named co-managing partner for Bedrock Real Estate Services LLC, the real estate arm of Dan Gilbert's Rock Ventures LLC.
"The Dahlmann family has owned real estate in Ann Arbor for a very long time and they are committed to the community," Larson wrote in the email. "We are pleased that the building will be in good hands and wish them the best moving forward."
Larson could not be reached for further comment.
Lizzy Alfs is a business reporter for AnnArbor.com. Reach her at 734-623-2584 or email her at lizzyalfs@annarbor.com. Follow her on Twitter at http://twitter.com/lizzyalfs.