Posted on
Fri, Feb 22, 2013 : 2:41 p.m.
Damon's Grill near Briarwood Mall in Ann Arbor closing Sunday
By Ben Freed
Damon's Grill's Ann Arbor location, at 3150 Boardwalk Dr. near Briarwood Mall, will close Sunday after regular business hours, manager Richard Morawa said.
Mowara said he only learned the restaurant would be closing late Tuesday night and informed his staff on Thursday after spending a day visiting other restaurants around Ann Arbor.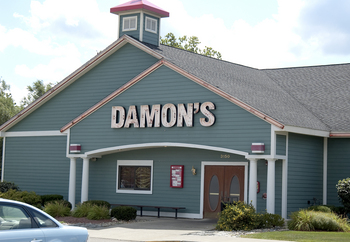 AnnArbor.com file photo
"Our main goal is to make sure they are taken care of," he said.
"We took Wednesday to plan and I went out to a lot of restaurants in town and talked to managers to find out who else was hiring and picking up applications to help our employees find other jobs once we shut down.
There are roughly 50 employees at Damon's who will be affected by the closing. Mowara said he was encouraging them to get the word out about the closing via social media and that he would be helping them find new jobs at other restaurants in Ann Arbor.
Morawa declined to comment on why the store was closing and did not want to speculate on his own future past Sunday. He also said the future of the memorabilia displayed throughout the restaurant was uncertain.
"That's above my pay grade," he said.
"Right now I'm just focused on trying to get jobs for the people who have been working here and trying to make sure we have a good last couple of days."
Damon's lists 14 locations in 9 states on their website. According to the chain's Wikipedia page, there were once 45 franchises across the Midwest. The restaurant was listed in a 2010 Forbes article on the fastest shrinking casual dining restaurant chains.
The article cited checks in excess of $20 and the cost of the large footprints required for the franchises as possible reasons for their closings. Damon's often have enough seating for more than 200 people and feature large screen TVs in a "clubhouse" in addition to a regular dining room.
Ben Freed covers business for AnnArbor.com. You can sign up here to receive Business Review updates every week. Reach out to Ben at 734-623-2528 or email him at benfreed@annarbor.com. Follow him on twitter @BFreedinA2