Posted on
Thu, Jun 14, 2012 : 5:56 a.m.
Ann Arbor businessman Dan Milstein enjoys success with his book 'The ABC of Sales'
By Laura Blodgett
When Dan Milstein fled the USSR with his family for Ann Arbor in 1991 as a political refugee at age 15 he had one suitcase and 17 cents in his pocket that a friend had given him to write a letter back that they arrived safely.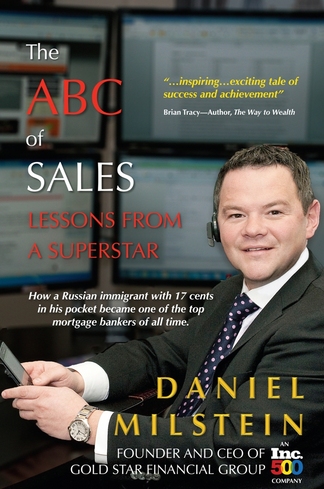 He was so grateful the next year to get a job at the McDonald's on Plymouth Road that he painted the corporation's trademark golden arches behind his bed. He faithfully worked from 5 to 8 a.m. each morning, stopping to attend
Huron High School
and then returning later in the day to finish his shift.
Now, 36-year-old Milstein is the founder and chief executive officer of Ann Arbor-based Gold Star Mortgage Financial Group and author of The ABC of Sales, which has won numerous awards, including being selected recently as the first-place winner in the "How To" category for the Paris France Book Festival. During the month of March alone, the book sold 10,000 copies and became the No. 1 sales book on Amazon.
The book outlines Milstein's remarkable journey as well as offers sales techniques and discusses the financial meltdown that affected the mortgage industry. His rise to the top began while he was attending Cleary University and was given a job as an assistant consumer lending manager at TCF Bank.
He rose through the ranks at several banks serving as the youngest general manager at Comerica Bank, where he ironically failed twice to be a loan officer because of his inexperience in the mortgage industry at that time, and then InterFirst, a division of ABN AMRO Mortgage Group.
"That's where I learned the business inside and out," said Milstein.
In October 2000, he started his own branch of Golden Rule Mortgage, renting a tiny space on Stadium Avenue that the previous tenant had used as a closet. To subsidize his income, the building owner allowed him to rent parking spots in front of the building during football games.
He eventually switched his company to Gold Star Mortgage, where his business grew larger and larger. Today, his company has 500 employees in 43 offices across the U.S. and has been named a Top Workplace in Michigan for three years by The Detroit Free Press.
Milstein has achieved more than $3 billion in personal mortgage originations and was ranked one of the top 40 finance professionals in the nation by National Mortgage Professional magazine.
His headquarters on Packard, which houses 165 employees, is currently on the market after outgrowing the space.
"Basically we have 85 parking spots for 150 cars," said Milstein, who adds that even in this supposed sluggish economy the company is having trouble finding a headquarters. He is very interested in the former Borders building downtown when it becomes available.
In the meantime, the company is in the process of moving to a facility at Avis Farms, where it leases 17,000 square feet. Milstein also is in the process of opening a location next month in Plymouth in order to have a local presence there.
On a hiring spree, Milstein says the company is on track to reach its goal of creating 100 new jobs before the end of this year. They have already filled 35 positions so far -- of which 25 are new college graduates participating in the company's two-year management program. The company has a need for workers in the area of underwriting, credit quality, compliance, licensing and processing mortgage applications.
"Since over 90 percent of the industry shut their doors a few years ago and left the industry, we have had a hard time locating underwriters and processors here in the state of Michigan," said Milstein, who has opened a new office in Ft. Lauderdale, Fla., to handle the company's volume. "We are looking to grow our Michigan presence. If anyone has mortgage experience, we'll talk to anyone at this time."
He says the fact that he never engaged in subprime lending helped his company not only survive the financial meltdown but use it as an opportunity to grow.
"I had a lot of pressure from my own sales people as well as Realtors, attorneys, and CPAs to get into (subprime lending) because they had clients that needed loans but it just didn't look right to me," said Milstein. "If (a loan) wasn't good enough for my mom, it wasn't good enough for my clients."
Milstein saw the financial meltdown coming as far back as the 1990s, although he admits he didn't know how bad things would get.
"When I worked as an underwriter at ABN, I saw guys on the line at the Big 3 making $130,000 to $300,000 with overtime, and buying $500,000 to $700,000 homes. I knew it wasn't going to last forever."
To prepare, he started updating his licenses and diversifying his company on a national level. By the time the financial meltdown hit in 2008, he had focused sales and marketing more to Texas and other states with stronger economies.
With his goal to preserve jobs for employees, Milstein focused on selling off or renegotiating poor loans and never stopped lending.
Writing this book was always on his "bucket list," says Milstein, who wanted to write an inspirational book that could appeal to everyone.
The book took about a year and a half to write and was published last June. Milstein opened the Gold Star Publishing Company to self-publish his book in order to retain all rights.
"I didn't (write) it for the money," he said.
His second book — strictly on the topic of sales — will be coming out late this summer. He also is working on a novel based on his life story which should be finished in the first quarter of 2013.
What does Milstein attribute to his success?
"Don't spend too much time looking for the perfect opportunity when a good opportunity is available," he said. "Don't look at clients as a way to make money. Do the best that you can, work extremely hard and if you do that the money will come."