Posted on
Sat, Jun 22, 2013 : 5:58 a.m.
Dancing Dog Gallery to open in former Herb David Guitar Studio building
By Lizzy Alfs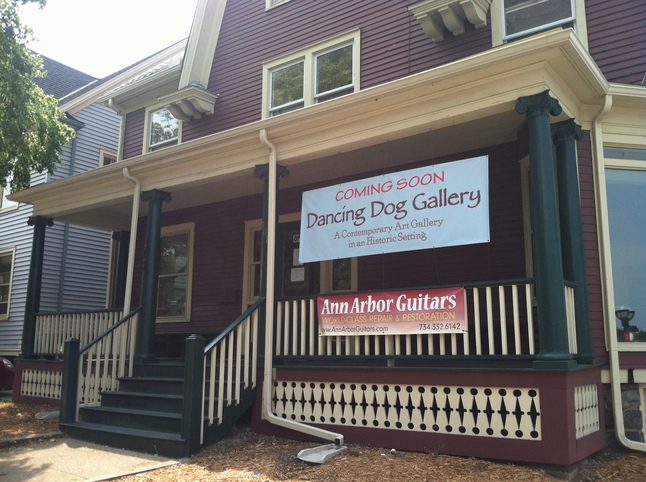 Lizzy Alfs | AnnArbor.com
The
former Herb David Guitar Studio
on Ann Arbor's East Liberty Street is getting new life as a cooperative art gallery.
Dancing Dog Gallery, a member-owned and operated gallery founded by eight local artists, plans to open this summer on the first and second floors at 302 E. Liberty St. Visiting artists also can participate and display work.
"We're excited just to share the art we have with the community," said Missy Cowan, one of the gallery's founding artists. "We're all a closely knit community of artists, and all of us feel that there aren't enough venues in this area for really talented artists to show their work."
"We wanted to have a home for our art where people could come and see it and interact with it," she continued.
Herb David Guitar Studio occupied the building on the corner of East Liberty Street and South Fifth Avenue for 30 years. David announced plans to retire in March, closing his iconic business several weeks later.
Ann Arbor Guitars, a repair shop owned by former Herb David employees, is located on the third floor of the building. After Herb David closed, the remaining space was listed for lease for $4,000 per month with Reinhart Commercial's Bela Sipos.
"I had a number of suitors immediately," Sipos said, regarding the vacated space. "The key was, we needed to find someone who could use both the first and second floor."
Colliers International's Patrich Jett represented Dancing Dog Gallery in the deal.
The artists behind Dancing Dog Gallery are painters, sculptors, photographers and mixed media artists, specializing in contemporary, original fine art. They are from Ann Arbor, Dexter, Chelsea and Ypsilanti.
Cowan said the gallery is undergoing renovations, and will open later this summer or early fall.
The gallery will be located on the first floor, with eight private work studios on the second floor that artists can lease.
"We were thrilled to find the space, it's going to be perfect," Cowan said. "It just has a great ambiance. We love the historical vibe, and it's just charming."
The founding artists of the Dancing Dog Gallery are: Matruka Sherman, Bill Knudstrup, Sophie Grillet, Sarah Clark Davis, Missy Cowan, Susan Clinthorne, Molly Indura and Sue Finley.
Lizzy Alfs is a business reporter for AnnArbor.com. Reach her at 734-623-2584 or email her at lizzyalfs@annarbor.com. Follow her on Twitter at http://twitter.com/lizzyalfs.