Posted on
Wed, Dec 30, 2009 : 10:32 a.m.
Death to cubicles, Menlo Innovations CEO Rich Sheridan says
By Nathan Bomey
The cubicle - which was born 41 years ago in Ann Arbor - could also die here.
At least that would be the preference of Rich Sheridan, CEO of Ann Arbor software firm Menlo Innovations.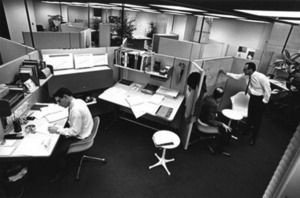 Photo courtesy of Herman Miller
Sheridan's reputation for preaching against cubicles as a catalyst for stodgy office environments is well-known. Today, he details his anti-cubicle passion in a blog post.
"Cubicles kill," Sheridan writes. "They kill morale, communication, productivity, creativity, teamwork, camaraderie, energy, spirit, and results. They suck the joy out of work."
Somewhere, Robert Propst - the Herman Miller furniture designer whose Ann Arbor team created "mobile office furniture" in 1968 - is likely seething.

But Menlo's collaborative office environment is a way of life. Sheridan regularly points out that at his company, software engineers work side-by-side at shared computers and change work partners on a weekly basis.
Sheridan writes:
"One of the first things people notice when they visit our space for the first time is that there are no private offices, walls, cubes, or doors. On a walking tour they learn that most people at Menlo do not even have their own desk, chair, or computer. People are often surprised by this lack of personal space as they contemplate what it might be like to work here. I'm sure they're thinking of their own work environments, where they have a cube or private office. They believe that this physical separation from their teammates produces greater productivity and a better environment for personal contributions."
For Menlo, the no-cubicle philosophy has been fruitful.

It's among the hottest companies in Ann Arbor. In November, the firm won its fifth straight Fast Track award - a competition organized by Ann Arbor SPARK that honors companies with revenue in excess of $100,000 that have achieved average annual revenue growth of at least 20 percent for the last three years.
Contact AnnArbor.com's Nathan Bomey at (734) 623-2587 or nathanbomey@annarbor.com. You can also follow him on Twitter.