Posted on
Sat, Jan 12, 2013 : 5:59 a.m.
Deli expansion to feature Zingerman's art framed by locally sourced company
By Angela Smith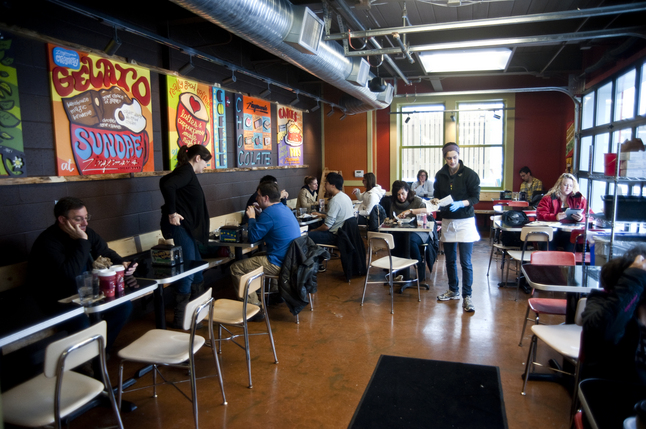 Joseph Tobianski | AnnArbor.com
Zingerman's hand-painted artwork may be just as famous as its sandwiches.
The posters, which embody the deli's artistic style, originally were designed in 1985. Steve Muno was one of the first designers and developed the font. Since then the unique style of handwriting, eventually dubbed 'Muno' has become the standard for all Zingerman's signs and posters.
And the posters are plentiful. Pete Sickman-Garner, Zingerman's marketing manager, says the deli has stacks of them. "I don't think anybody knows just how many pieces we have but we've painted 5 'line-signs' per month for years plus countless other merchandising signs."
Zingerman's has long-talked about making the posters available for sale. The delicatessen's renovation is offering the perfect opportunity to display and sell the artwork. Zingerman's is partnering with local business owner Paul Hickman of Urban Ashes to display its unique artwork.
Hickman has been a local artist and furniture designer for years. In 2008, during the height of the emerald ash borer's assault on local ash trees, he formed a business that focused on creating frames from locally salvaged wood, Urban Ashes.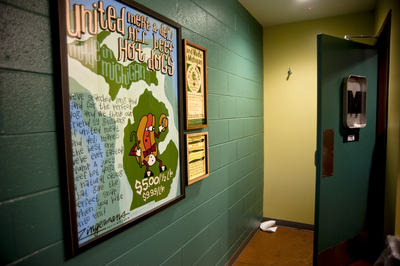 Joseph Tobianski | AnnArbor.com
In addition to locally sourcing the wood, Hickman also gets almost every other component of the frames in Michigan.
"Creating a product that was comprised almost entirely of Michigan-made components required a tremendous amount of time and energy. However I felt it was imperative that we do this to create a brand that was strongly entrenched in Michigan's manufacturing traditions," Hickman said.
While Hickman was starting his frame company, Erica Bertram, merchandising manager at Zingerman's Deli, was trying to figure out what to do with the mountains of hand-painted signs she and her crew had painted throughout the years, according to a news release.
"The signs are usually up for a month and then we swap them out. We've thought about selling them for years but last year we finally made that a reality."
Zingerman's is not the only partnership Hickman has formed for Urban Ashes. Business has been growing at a rapid pace, and he's gone from six to more than 60 retail partnerships during the course of 2012. This month he will be exhibiting at one of the largest gift fairs in the world in Atlanta, Ga., as well as the largest Art and Frame expo in Las Vegas. His frames can be found in retail shops in 10 states, and the list is growing each month.
"We have also developed several other partnerships with places such as Reclaim Detroit and most recently Mighty Good Coffee," Hickman explained.
Zingerman's diners will be able to find the framed art in both the men's and women's restrooms of the newly constructed deli space. "That might seem like a funny place to put it, but hey — it's a high-traffic area and we want to show this stuff off," Bertram said.
Angela Smith is a freelance reporter for AnnArbor.com.
This story has been updated to correct details about the signs' artistic origin.