Posted on
Fri, Jun 22, 2012 : 2:55 p.m.
Demolition starts for new shopping center on Washtenaw
By Paula Gardner
Heavy equipment and new fencing moved onto the property recently signaled the launch of site preparation at Arbor Hills Crossing, the new shopping center planned for Washtenaw Avenue in Ann Arbor.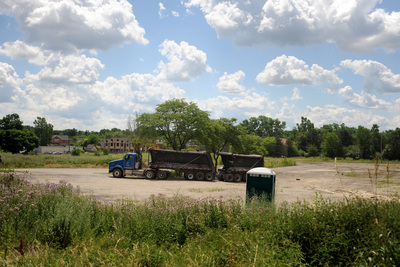 Angela Cesere | AnnArbor.com
By Thursday, both were put to work: Demolition of the former Stucchi's building on the south side of the road — across from Whole Foods in Huron Village — had been started.
And Friday morning, crews had returned to the site, clearing debris.
The property is 7.45 acres that extends from 3000 Washtenaw at Platt Road — including some older retail spaces — east to include a large vacant lot that formerly housed a car dealership.
The land was targeted for development in 2006, then sold following foreclosure to RSW Washtenaw LLC, an entity controlled by Tom Stegeman of Campus Realty in Ann Arbor.
Stegeman obtained City Council approval in 2011 to build Arbor Hills Crossing on the property. Plans call for a 90,700-square-foot complex across four buildings.
Demolition permits were issued on Wednesday by city building staff.
Angela Cesere | AnnArbor.com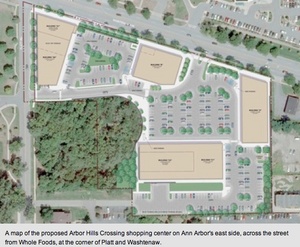 Now, city officials are reviewing building permits filed by O'Neal Construction of Ann Arbor in late May that call for construction of all four buildings. O'Neal posted renderings of the project on its website, calling it a featured work in progress.
Unclear is the timing of construction now that demolition is under way: Stegeman was not available to detail his plans.
Ralph Welton, the city's building official, said he expects to issue permits to build the foundation by early July.
"They're anxious to get them," he said. "It sounds like they have all of their ducks in a row."
The previous plan for the property — The Shops at Arlington — called for a 138,000-square-foot retail project with underground parking. It originally had been called "Huron Village South."
From an Oct. 18, 2011, story in AnnArbor.com:
Ann Arbor real estate owner and developer Campus Realty bought the property from the lender in 2010, and is partnering with Chicago-based North Shore Properties Group on the Arbor Hills Crossing development.
Earlier this year, Tom Stegeman of Campus Realty said that Arbor Hills Crossing will have no large anchor, such as the Whole Foods Market across the street.
He said he hopes to attract national chains, regional players and local businesses. It will include a mix of tenants, including most likely food use, apparel and specialty retailers.
He also said North Shore, who is handling tenant selection and leasing, has been in serious discussions with a number of potential tenants and there is strong interest.