Posted on
Mon, Feb 7, 2011 : 2:09 p.m.
Demolition, new Happy's Pizza planned for blighted ex-Dairy Mart on Washtenaw in Ypsilanti Township
By Tom Perkins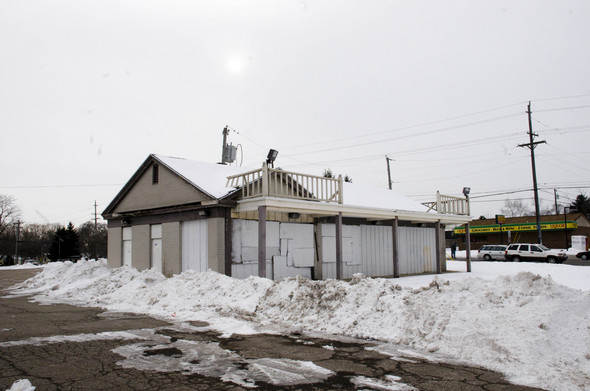 Tom Perkins | For AnnArbor.com
A long-vacant former Dairy Mart that has greeted residents entering Ypsilanti Township at the corner of Washtenaw Avenue and Golfside Road with blight since 2004 soon may be demolished.
The owner of the boarded-up building at the intersection's southeast corner is close to closing on a deal with the owners of a nearby Happy's Pizza, Ypsilanti Township officials say. If the deal goes through, the building could be demolished by early March and a new Happy's Pizza built by summer.
"This is going to be a dramatic improvement to that intersection," Ypsilanti Township Attorney Dennis McClain said.
"The southeast corner has been a horrible introduction into Ypsilanti Township along Washtenaw Avenue, so we're looking forward to having this new facility up and running."
The building has been problematic from a code enforcement and security perspective since it closed, said Mike Radzik, director of the township's office of community standards. The township has had to work with the property's owner, Edward Zeer, to address numerous blight-related issues and deal with vandals regularly breaking into the building.
Zeer proposed several plans to rehabilitate the property throughout the last several years. In 2004, he filed an application with the township to renovate the building and expand the retail space, township planner Joe Lawson said.
During that process, representatives from a company looking to build a CVS approached Zeer, but that deal would have included part of the adjacent Ypsi-Arbor Bowl's property. Because Ypsi-Arbor Bowl representatives failed to show up to the closing on their portion of the sale, the deal fell through.
Lawson said Zeer then moved forward with his own plans to renovate and expand the building, and received site plan approval in 2006 from the planning commission. After a year of inaction, the site plan approval expired. In 2008, Zeer re-applied with the same site plans, which were re-approved.
Again, Zeer took no action and the building further deteriorated. After he failed to reply to a notice of violation requiring the building be brought up to code or demolished, the township filed a motion in Washtenaw County Circuit Court in August to have the building declared a public nuisance, Radzik said.
"The longer it sat, the worse it became, and it really got to be an eyesore," Radzik said. "We called Zeer in to meet with our development team, attorneys, elected officials, and when push had come to shove we had to ask 'What are you going to do, because it can't sit there?'
"We set deadliness, he asked for extensions and this went on for an extended period of months, so we filed suit."
However, before the case proceeded, representatives from Ypsilanti-Washtenaw Holdings LLC, which owns a Happy's Pizza on Washtenaw Avenue in between Golfside and Hewitt Road, approached MBZ LLC, Zeer's company that owns the intersection property.
After Zeer received site plan approval for a third time, the two parties entered into a purchase agreement, McClain said.
The Michigan Department of Transportation required changes to the curb cuts along Washtenaw Avenue and still has to approve those plans because the road is a trunk line. Currently there are two entrances to the property. A representative from Happy's Pizza corporate office said MDOT is asking that left turns be prohibited out of a cut close to Golfside. The property would also share a driveway slightly to the east with Ypsi-Arbor Bowl.
A Happy's Pizza representative said all parties are hopeful to receive MDOT's approval and close on the deal soon. The representative and owner of the current Happy's Pizza on Washtenaw declined to comment further.
McClain said if if the two parties do close on a deal, a consent judgment will be entered in circuit court. The current Happy's Pizza on Washtenaw Avenue is then expected to move to the new location sometime in early summer.
"Unless something unforeseen happens the consent judgment will be entered, the Ypsilanti-Washtenaw LLC people are then to submit for a demo permit within 30 days and they can start construction of a new building," McClain said.