Posted on
Sun, Dec 13, 2009 : 6:01 a.m.
Ann Arbor's Briarwood Mall entered holidays in strong position despite soft retail sector
By Paula Gardner
Retail news over the holiday season still forecasts uncertainty across the sector.

But Ann Arbor's largest regional shopping destination remains poised to retain its dominance in this market.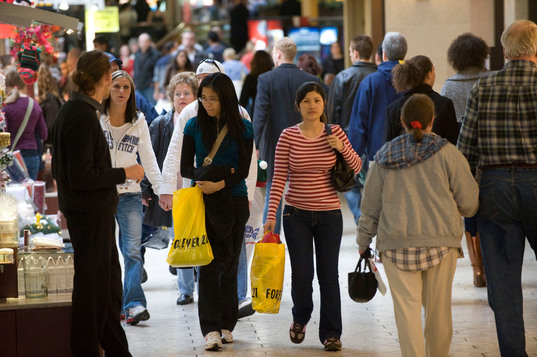 Briarwood Mall went into the holidays with:
• A low vacancy rate.
• No anchor store vacancies.
• Few leases coming due.
• Little potential for new competition to be built in coming years due to lack of development financing and sector softening.
• And data from co-owner, Simon Property Group, that shows - across its comparable U.S. properties - 2009 rental rate increases despite an 11.2 percent year-to-date drop in sales.
---
Briarwood Mall
Location: I-94 at South State Street
Built: 1973
Size: Almost 1 million square feet on 16.5 acres
Manager and co-owner: Simon Property Group
Taxable value: $43.8 million for the 500,000-square-foot mall, excluding anchor stores.
Anchor stores and their taxable values:
Macy's: $8.7 million for 186,700 square feet
JCPenney: $7.1 million for 169,000 square feet of store and automotive service area.
Sears: $7.3 million for 162,100 square feet
Von Maur: $6.1 million for 100,000 square feet
Total taxable value of mall and anchors: $73 million




Simon Property Group


• Simon is the largest publicly held retail group in the U.S.
• Properties include 168 regional malls.
• Company value, based on stock shares selling at $75.98, was $21.5 billion.
• Sales per square foot in regional malls fell 11.2 percent in the first three months of this year to $438 from $493.
• Base rents increased 2 percent during that time to $40.05 per square foot.
• Occupancy was 91.4 percent at the end of September, compared to 92.5 percent a year earlier.

Source: SEC filings.


---
"Briarwood is definitely the shopping area of the city that does the largest total volume," said national retail consultant Becky Maccardini, who is based in Ann Arbor.
"If you were to add together those department stores and specialty stores, the volume is going to be without a doubt the highest confluence of shopping in the greater Ann Arbor area."
Mall officials will not release sales data specific to Briarwood.
But the national average across Simon's 168 regional malls is $438 per square foot. That average would represent about $438 million per year at Briarwood.
That's enough to keep the mall at the top of Ann Arbor's list of taxpayers. In 2008, Briarwood Mall's $2.3 million tax payment was the second-highest in the city for a single owner, behind only Pfizer.
By 2010, the mall - which saw its taxable value grow in 2009 by over $1 million as it climbed to $43.8 million - will be the single largest taxpayer in the city.
The mall is considered a class A property, thanks to its tenant mix, which includes three national anchors, one regional anchor and a mix of national and independent inline stores.
"A lot of other shopping centers have been forced to renegotiate leases," said Ida Hendrix, mall manager. "We've held.

"We've been in a good position because we don't have a lot of vacancies and continue to have interest from national retailers."
Those national retailers - particularly anchors JCPenney, Macy's and Sear's - are heavy advertisers during the holiday, driving foot traffic into the mall on all fronts, from the bargain-seekers to luxury buyers.
Briarwood's store mix doesn't rival Oakland County's high-end Somerset, and it's smaller than Novi's Twelve Oaks, but both anchors and inline stores provide an assortment of Class A tenants.
Those tenants aren't duplicated in the market, said Jennifer Cherry, vice president at Marx Layne in Farmington Hills.
And Simon works aggressively to keep them, Maccardini added.
"It is a very, very aggressive, smart operator," she said. "My guess is that they would work as closely as they could with key tenants to make sure they stay at Briarwood."
Hendrix confirmed that.
"Obviously we don't want turnover in this mall," Hendrix said.
As a result, Hendrix said she's worked to bring in temporary tenants for the holidays and tenants on shorter-term leases.
There will be changes after the holidays: Samsonite is leaving, but another luggage store is asking about the space.
And Waldenbooks is expected to close its store, based on an announcement by parent company Borders Inc., but Hendrix is seeking another book seller.
Meanwhile, while smaller centers across the U.S. with a weaker tenant base will atrophy in the economic downturn, "fortress regional center … (will) be left standing," according to a real estate study by the Urban Land Institute.
But that's only true as long anchor stores remain filled, experts said. Among the chain stores at Briarwood, sales at both JCPenney and Macy's fell about 6 percent in November.
And experts will be watching chain bankruptcy filings in early 2010 as an indicator of shopping center health beyond next year.
As many as 8,000 stores could close in the U.S. in the first half of 2010, according to Excess Space Retail Services Inc., a Huntington Beach, Calif.-based real estate disposition and lease restructuring firm.
What that means for Michigan - and its shopping centers - is unclear.
Maccardini said many stores knew their sales would fall proportionately more in Michigan than elsewhere and planned to staff and stock accordingly.
In that environment, she said, even a flat or declining sales year could still be profitable.
That cautious optimism is present in Briarwood, Hendrix said. 
"Merchants are being very smart about trying to bring the right merchandise in," she said.
Retail centers generate about 30 percent of annual sales during the holidays, a figure that Hendrix said is accurate for Briarwood too.
In 2008, numbers were flat, Hendrix said.
"If we mirror last year, we'll be happy," she said of this holiday season. "We have to go into the season with our best foot forward and hoping for the best, and planning for whatever the economy and this market will bring us."