Posted on
Mon, Jan 11, 2010 : 5:42 p.m.
Detroit auto show visit: Nancy Pelosi happy with automakers' progress
By Nathan Bomey
Speaker of the House Nancy Pelosi said this afternoon that she was encouraged by her trip to the Detroit auto show, where she joined a contingent of Congressional delegates in touring various exhibits.
Pelosi offered a forceful defense of federal government's decision last year to finance the bankruptcy filings of General Motors and Chrysler.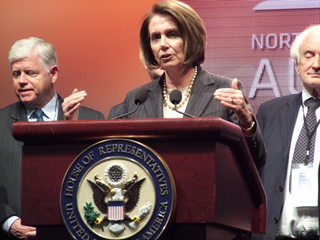 Nathan Bomey | AnnArbor.com
"It wasn't about lending to automakers," Pelosi said at a press conference. "It was about the survival of the industry."
Pelosi, House Majority Leader Steny Hoyer and other members of Congress met with executives from GM, Chrysler and Ford. The government now has an ownership stake in GM and Chrysler as a result of up to $65 billion in emergency loans extended to the companies in 2009.
"We came to listen, to learn, to observe, to measure, to judge what has happened to the investment that we made," Pelosi said. "We've been impressed. We have confidence in what has been accomplished."
The elected officials' visits extended the political influence in the auto show, which hosted Republican presidential candidates in 2008 and Republican Sen. Bob Corker, R-Tenn., in 2009.

Hoyer said he felt "like a kid in a candy shop" at the North American International Auto Show.
"You walk around this mammoth convention center, and you see some extraordinary workmanship, quality products, beautiful products that we all would like," he said.
Hoyer said preserving America's manufacturing base was in the best interest of the country.
"All of us agreed that the vitality and success and continuation of the automobile industry was of central interest to the national security of the United States of America," he said.
But the government's bailout of GM and Chrysler has been notably controversial. In fact, so-called Tea Party protesters gathered outside Cobo Hall today to object to the government's investment in the automakers.
Oakland County Sheriff Michael Bouchard, a Republican candidate for government, was among them.
"I don't think it's healthy for the government to control GM," he told the Detroit Free Press. "Because they're a group of people who can't balance a budget. Do we want them calling the shots with the auto industry?"
Contact AnnArbor.com's Nathan Bomey at (734) 623-2587 or nathanbomey@annarbor.com. You can also follow him on Twitter.