Posted on
Mon, Nov 12, 2012 : 12:17 p.m.
Detroit barbecue restaurant signs lease for former Packard Pub in Ann Arbor
By Lizzy Alfs
The smell of smoked ribs, beef brisket and mashed sweet potatoes will be hitting the State and Packard area next year when a Detroit-based barbecue restaurant opens its doors.
R.U.B. BBQ Pub, with locations in Detroit and Warren, plans to open in the former Packard Pub space at 640 Packard St.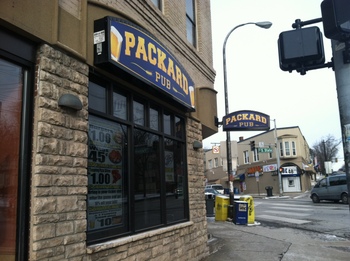 Lizzy Alfs | AnnArbor.com
"We're constantly looking for cities that are a little more developed and have high traffic," said R.U.B.'s regional manager Omar Mitchell. "We're big fans of being next to stadiums and theaters."
R.U.B. specializes in "old school" smoked barbecue food, according to its website. Its menu consists of rib tips, sliders, wings, barbecue nachos, fried pickles, grilled corn, mac and cheese, Cajun gumbo, salads and more.
"Not only can you taste the natural smoke flavor, but you can visually see the smoke ring on the outer portions of our meats," the website says. "We mix our own rubs and sauces from scratch using over 20 different herbs and spices."
Mitchell said the restaurant will carry more than 50 draft beers and 200 bottled beers, including microbrews from Michigan. It also will be a sports-viewing destination.
"We are excited to be bringing the same great-tasting BBQ you have grown to love to Ann Arbor and to be your premier pregame and postgame destination for all (University of Michigan) games," the website says.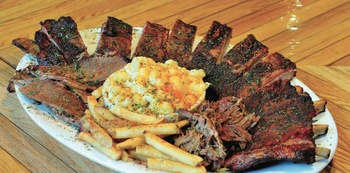 Photo from R.U.B. BBQ Pub
Packard Pub most recently occupied the 3,500-square-foot space at State and Packard. The pub opened in March 2010, but
closed unexpectedly
in late 2011. When the business closed, signs on the building listed a phone number for a bankruptcy lawyer in Mount Clemens, Mich.
The building, which also is occupied by a Subway sandwich shop and student apartments, is registered to Ronald Moore of Rdm Holdings Ltd in Saint Clair Shores, Mich.
Mitchell said although restaurants have "come and gone" at the building, R.U.B.'s business model focuses more on the food than Packard Pub, which he expects will create a more loyal following.
"The past restaurant was more bar-driven," he said. "We're more restaurant-driven. We're planning on serving a lot more food and we can deliver food."
He continued: "In the spring and summer, we have very large smokers, so we can participate in a lot more festivals and outdoor events to supplement our income. We also have our other side of the business, which is our catering company."
Owned by the Yono family, R.U.B. BBQ was established in 2010 and the three restaurants are corporately owned.
Mitchell, who is spearheading the opening of the Ann Arbor location, said he hopes to open the restaurant within the next 30 to 60 days. The turnkey space only needs some cosmetic changes, he said.
"(This space) was in great condition," he said. "So that's why we will be able to open up so quickly."
Mitchell said he plans to hire about 50 to 60 workers. Email info@rubbbqdetroit.com to apply.
Lizzy Alfs is a business reporter for AnnArbor.com. Reach her at 734-623-2584 or email her at lizzyalfs@annarbor.com. Follow her on Twitter at http://twitter.com/lizzyalfs.