Posted on
Thu, Jun 21, 2012 : 5:10 a.m.
Detroit International Auto Salon announcec 2012 Detroit International Advanced Manufacturing and Technology Show and Detroit International Classical Car Show
By AnnArbor.com Staff
Detroit international Auto Salons hosted a press conference on May 24 in Dearborn, announcing the expansion of the Detroit International Advanced Manufacturing Technology Show (headquartered in Ann Arbor) during its second year and the creation of a new auto show, the Detroit International Classic Car Show.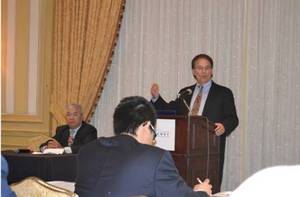 DIAS publicity photo
DICCS focuses on classic cars, aftermarket auto parts and special equipment. DIAMTS debuted last year, and organizers expect even larger attendance at an auto show aimed at allowing manufacturers of advanced technology from Michigan and the United States to show off their products. Last year, DIAMTS attracted more than 1,000 overseas purchasers to Detroit.
DIAS announced both DIAMTS and DICCS in the press conference. Eric Huang, the CEO and president of DIAS, delivered opening remarks. Tom Watkins, the spokesman of DIAS (pictured above), gave a presentation that introduced these shows and sent a message out that the shows are "starting their engines and are off to a fast start."
Sign up for the weekly Business Review email newsletter here.