Posted on
Mon, Feb 27, 2012 : 5:59 a.m.
Developer Stewart Beal launches urban farming business with a social mission
By Tom Perkins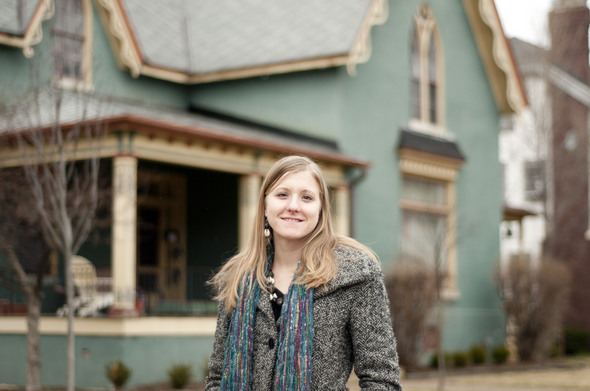 Tom Perkins | For AnnArbor.com
Ann Arbor developer Stewart Beal is moving in a new direction with his latest venture.
Joining demolition, construction and property management companies in the Beal Group is CityFARM, an urban farming company dedicated to fighting hunger and promoting urban farming.
CityFARM is a partnership between Beal and Lauren Maloney, an organic farmer who will oversee the day-to-day operations.
The company offers four different sizes of "urban farms" to residential and commercial clients, depending on their needs and available space. Included in the package for each garden is the design, installation and maintenance of the gardens, which are planted in raised beds.
While the company is for profit, Beal said it holds some non-profit elements and is similar in concept to the popular Tom's Shoes. For every pair of shoes a person buys from Tom's, they donate a pair to a child in need.
For every urban farm purchased in the community, CityFARM will plant a garden of the same size on a demonstration farm at 103 N. Adams Street in Ypsilanti. It will then donate all the food grown there to the local nonprofit Food Gatherers.
"With CityFARM, we are starting something that will matter to many people in different ways," Beal said. "We will make spaces beautiful, create employment opportunities and donate food to those in need."
CityFARM is seeking start up costs via a Kickstarter campaign for the Adams Street Farm. (Kickstarter allows people to raise money online from individual contributors.)
The business plans to charge $32 an hour for Maloney's services, and the four available packages run between $700 and $4,000.
The smallest of the package provides a 40-square-foot raised bed that includes all the soil and fertilizer. CityFARM also takes care of any weeding, mulching, tilling and other preparation work. Once the bed is installed, CityFARM provides the seeds, a bamboo trellis, an irrigation system and tomato stakes.
The largest farm package offers a bed measuring 400 square feet along with the same products and services as the smallest size. Prices can vary depending on the type of work that needs to be done at each property, and Maloney will visit a yard or lot to give a free estimate.
CityFARM is primarily focusing its efforts on Washtenaw County, though Maloney said they will travel further depending on the type of job and customer's needs.
Beal had been considering starting an urban farming company as his demolition company tore down over 100 homes in Detroit over the last two years. The question arose: What gets done with all the empty space?
But he said he never found the right partner for the project. When he posted for a different position in the Beal Group, Maloney responded and he noticed her extensive experience in agriculture and organic farming.
She came in for the interview and Beal mentioned the idea.
"Her eyes lit up," Beal said, and the idea quickly evolved into a business.
Maloney learned organic farming on several farms in Maryland and Vermont before moving to St. Eustatius in the Netherland Antilles where she helped design and develop a .5-acre fruit tree garden.
After that she joined the Peace Corps and traveled to Niger, where she assisted a local women's group in planting a 1,000 Moringa tree plantation. Upon returning to the United States, she began working toward her master's degree in conservation biology at the University of Michigan while farming at Dexter's Brine's Farm.
Urban farming has become particularly popular in southeast Michigan in recent years. There aren't any regulations or laws governing small farms that don't produce food to be refined or directly sold to the customer. CityFARM is only assisting in producing food, so it doesn't fall in either of those categories, though Beal said he would like to see the CityFARM brand on stores' shelves someday.
Maloney said Ypsilanti and Ann Arbor's residents are relatively active in urban farming and the local foods movement, which makes the area a good spot for this type of business. But she added that CityFARM isn't directed at only that community.
"It's for a anyone who has an interest in growing food," Maloney said. "You don't have to be an expert farmer or gardener to do it."
Among the benefits of urban farming Maloney listed is the positive impact on the environment, because it takes a piece of lawn that was previously covered in pesticides and turns it into organically farmed land. It also directly benefits a landowner by providing fresh, healthy food and helping save money on groceries.
"You can plant whatever you want, it beautifies the community and when people connect more with environment, they are more likely to respect and take care of it," Maloney said.
Tom Perkins is a freelance reporter for AnnArbor.com.