Posted on
Mon, Apr 5, 2010 : 2:22 p.m.
Developers are finalizing plans for 14-story Zaragon Place 2 on E. William in Ann Arbor
By Paula Gardner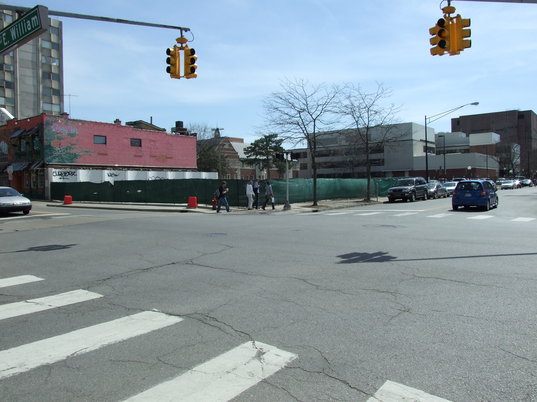 Paula Gardner | AnnArbor.com
A developer with one recent project near the University of Michigan now plans to turn a former bank branch into a mixed-use student-housing high rise on the corner of East William and Thompson.
Zaragon Place 2 site plans will be submitted to the city by the end of the month, said developer Richard Perlman of Zaragon Co.
The building will resemble Zaragon Place, which opened on East University in fall 2009.
"We're delighted with Zaragon Place 1," said Perlman, "and that's why we're doing Zaragon Place 2."
The building is planned as a 14-story tower with first-floor retail and 99 apartments with a mix of 1-, 2- and 4-bedroom units. It will total 200 to 350 beds, Perlman said.
A Zaragon-related entity, Democritus Associates LLC, has owned the 1/3-acre property at 500 E. William next to Cottage Inn Restaurant since September 2008, according to city records. Zaragon bought the former NBD Bank from an entity related to Campus Rentals Inc. of Ann Arbor.
Zaragon Place 2
A community information meeting on the project is scheduled for 4-6 p.m. April 12 at the Michigan Union.
Location: 500 E. William at Thompson
Proposed: 14 stories, 99-unit apartment building with ground floor retail space and onsite parking.
Developer: Zaragon, based in Chicago.
Other Ann Arbor projects: Zaragon Place, 619 E. University, south of South University.
Zaragon Place 1, which replaced the former Anberay Apartments on East University, has rental rates over $1,000 per bed, according to the Michigan Daily.
That 10-story building's occupancy is "very high," Perlman said, declining to name a number. It also is home to a restaurant and grocery on the first floor - Revive and Replenish - and underground parking.
Zaragon came onto the market at the same time as two other student high-rises: 4 Eleven Lofts on East Washington and The Courtyards near Plymouth Road and North Campus. All three, plus the stalled 601 Forest project near South University, represent new opportunities for amenity-driven student housing in Ann Arbor through high-rise construction.
Multiple smaller projects near campus and the under-construction North Quad at the University of Michigan also reflect a wave of infill projects designed to appeal to students seeking a newer rental.
Ann Arbor developer Peter Allen said Zaragon Place 1 "hit on all cylinders. It was executed beautifully."
Now, Allen said, as other developers consider moving forward on student housing projects in town, the announcement that Zaragon Place 2 will get started sends a message to the competition.
The existing new projects in the market represent the changing expectations among students, local commercial real estate experts say, as new construction with proximity to campus - and the market's highest rental rates - compete with older properties and converted houses.
In that environment, launching a project two blocks from the Diag makes sense, Perlman said.
"The location is fantastic," Perlman said, noting the property abuts a U-M parking lot to the south.
Perlman also expects Zaragon Place 2 to mirror the amenities found at Zaragon Place, including the onsite parking - 40 spaces are planned - along with a fitness center and loft-style design. The first-floor retail spaces will have frontage on both William and Thompson.
Perlman said financing markets for commercial construction have dramatically changed since he started what he calls "ZP1," which was under way as the national lending crisis took hold in late 2008.
"There are far fewer lenders out there today," Perlman said. "… There's a whole different formula today. More cash is required and lender require a higher loan-to-value ratio."
Still, he said, he's negotiating with several lenders - primarily national banks - to finance the project. He would not estimate a finished cost.
"The University of Michigan is a very strong market," Perlman said. "We know it very well."
Zaragon is based in Chicago, but Perlman grew up in Metro Detroit, and both he and his son graduated from the University of Michigan. He said he's also willing to consider more projects in town, including branching out from student housing.
Zaragon also recently bought a 660-bed student apartment complex called The Arboretum in Kalamazoo from a lender. Other properties in its seven-state portfolio include a total of 3,500 apartments, office buildings, and a mobile home park.
As for timing on Zaragon Place 2, Perlman said, "we're going to get started as soon as we can."
Site plans should be submitted to the city by April 26, and they'd likely reach the Planning Commission in June and City Council by August.
Construction could begin late this year, and Perlman estimated it would last up to 24 months.
The site plan will be submitted under existing zoning regulations, Perlman added.
Zaragon will be holding a meeting from 4-6 p.m. Monday, April 12, in the Anderson Room of the Michigan Union to meet with neighbors of the project.
The project complies with the D1/D2 zoning regulations recently adopted by the city for downtown development after the "A2D2" process.
View rendering in the community meeting announcement here.