Posted on
Tue, Oct 23, 2012 : 5:59 a.m.
Developers look to convert warehouse on Ann Arbor's North Main Street into 'high-tech' office space
By Lizzy Alfs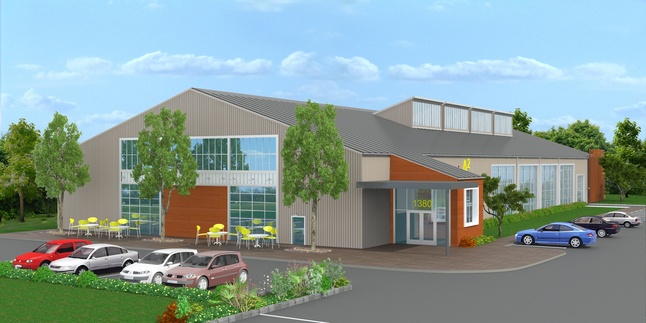 Rendering by Arik Green
Envisioning high demand for office space in Ann Arbor, two Oakland County developers have plans to transform a vacant industrial building on North Main Street into the city's next technology hub.
Scott Marcus of RSM Development & Management and Jeff Helminski of Campus Village Communities — also the developer behind Ann Arbor's City Place apartments — want to convert the former Allied Building Products property at 1380 N. Main St. into an office campus called The Gateway.
The plans, which were unveiled in marketing materials this week, come five years after the developers purchased the property for $5.32 million.
"We envision the project as a very new age office, with a lot of collaborative space, maybe an incubator use for some of the tech companies," Marcus described. "It'd be very open and cool, like a Google-type space."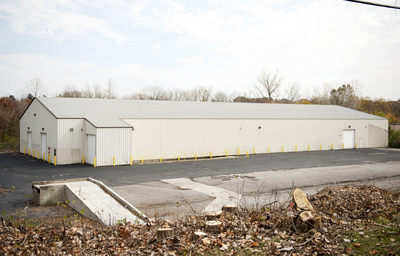 Daniel Brenner | AnnArbor.com
The 5.16-acre property, on the east side of North Main and bordered by the M-14 on-ramp, has been vacant for more than four years. Allied Building Products moved to Ypsilanti when it acquired Astro Building Products, but the company's lease for the North Main Street property just expired in July.
The property has a 34,885-square-foot warehouse, which includes a 8,720-square-foot mezzanine, a 3,330-square-foot stand-alone building and up to 400 parking spaces.
When Marcus and Helminski purchased the property in 2007, they started toying with the site's development potential. They considered a mixed-use project as large as 300,000 square feet, but decided to wait until Allied Building's lease expired to make a move.
Now, Marcus said, the time is right.
"In the Ann Arbor market, there's really not much big-box office space," he said. "If a tenant wants to occupy or own 30,000 square feet or more, it really is very limited. That's who we're looking for."
The property is being marketed both for lease and sale with Ann Arbor's Colliers International. The warehouse building is listed for sale for $2.3 million, or for lease for an annual $10 per square foot. Marcus said they'd be willing lease the building to one large tenant or three tenants in the 10,000-square-foot range.
"At this point, we're prepared to reuse the building and lease it to somebody," Marcus said. "We'd rebuild it for offices using the existing building, or sell the building to somebody that would want to do the same."
Marcus said construction on the building — which would include redesigning the interior and adding windows throughout — will not start until they've secured tenants or a buyer.
"We're going to market this aggressively, and with our lease rate, we think we'll be very competitive," he said. "What we really have is location. We have parking and the plans are cool, fresh and new."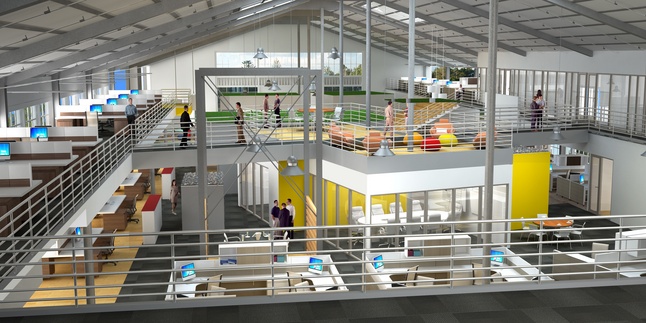 Rendering by Arik Green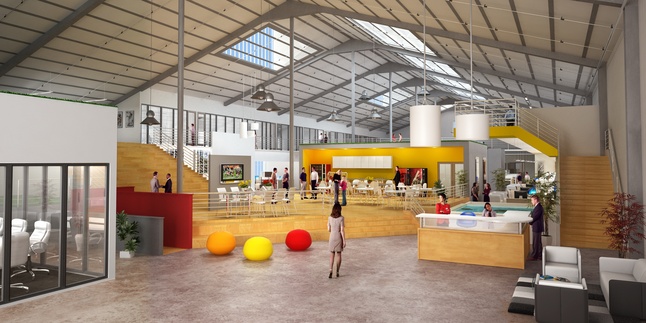 Rendering by Arik Green

View Gateway Office Complex Development in a larger map
Lizzy Alfs is a business reporter for AnnArbor.com. Reach her at 734-623-2584 or email her at lizzyalfs@annarbor.com. Follow her on Twitter at http://twitter.com/lizzyalfs.