Posted on
Tue, Sep 13, 2011 : 5:57 a.m.
Dexter candy maker's chocolates catch eye of the U.S. government
By Angela Smith
Dexter-based Mindo Chocolate Makers is now selling its products in more than 34 stores throughout the U.S., just two years after it was founded.
The "bean-to-bar" chocolate maker, founded by husband-and-wife Joe Meza and Barbara Wilson, owners of Ann Arbor-based ArborMotion, is headquartered at the couple's Dexter home. They source and inspect their beans from farmers in Ecuador, where the couple also own a bed-and-breakfast in the small-town ecotourism hub of Mindo. Now, Mindo's high-quality chocolate has caught the eye of a high-profile source: the U.S. government.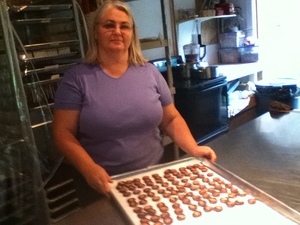 Angie Smith | For AnnArbor.com
Through their involvement in the
Fine Chocolate Industry Association
, Wilson and Meza were recently asked by the U.S. Department of Agriculture to help gather cocoa tree samples for a project in which government is trying to determine what kind of cacao beans make the best chocolate.
"I think people would be interested in what we are discovering now that we have dug deeper into the business of making chocolate," Wilson said. "I can't help but think that we stumbled into something much bigger than we expected."
The USDA project is interested in identifying so-called "fine flavor" beans, which includes Ecuador's heirloom Nacional bean, which Mindo uses.
"I returned to Ecuador this summer with supplies in hand to collect leaf samples for the cocoa genome project, which is being conducted by the USDA," Wilson said.
Wilson and Meza opened their chocolate making business just two years ago. They began making high-quality chocolate form just three ingredients, and their $7 chocolate bars were made available at local shops like Zingerman's and the People's Food Co-Op.
Since then, their product was nominated by Zingerman's Duff Anderson for the prestigious Good Food Award, and their products have made their way to stores in San Francisco, Dallas and elsewhere. The chocolate-making operation is not yet profitable, because, Wilson says, they're still investing in the operation.
Finding the right kind of beans from the Nacional trees is still challenging, too. Though farmers prefer the heirloom trees for their sentimental value, taste and quality, a hybrid cacao plant is being readily adopted in the area. Unlike the natural version of the Nacional tree, the hybrid version must be grown in a clear-cut area, needs pesticides and doesn't last as long.
At present, there is no way of telling if the chocolate you purchase is made from Nacional beans or other hybrid beans, Wilson said. She adds, though, that chocolate is not well studied.
Mindo Chocolate Makers offers ecotours in Ecuador, and chocolate-making classes at various locations around town. Wilson is hoping that, like microbreweries have done for beer making, an educational effort can boost the public's understanding of chocolate varieties and options.