Posted on
Thu, Jun 24, 2010 : 6:10 a.m.
Did Rick Snyder ship jobs overseas while at Gateway?
By Nathan Bomey
Ann Arbor venture capitalist Rick Snyder, the self-proclaimed "job creator" running for governor, is fighting accusations that he sent jobs overseas at computer-maker Gateway Inc.

The political rhetoric portrays Snyder as responsible for the outsourcing that occurred as Gateway shed thousands of jobs while he was serving on the company's Board of Directors from 2001 to 2005.
An extensive review of government records, media accounts and interviews paints a more nuanced picture of the situation.
The allegations, aimed at an electorate sensitive about manufacturing outsourcing, intensified earlier this month at a
gubernatorial debate
in Mackinac Island, where Republican opponent and Attorney General
Mike Cox
denounced Snyder's Gateway tenure.
Computer industry experts said the jobs cuts and outsourcing were necessary to help the company survive the industry's dynamic restructuring. They also questioned whether an individual member of the 10-person Board should be blamed for the company's downfall.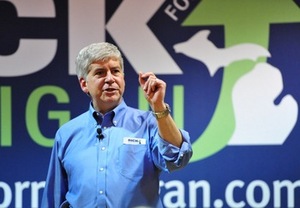 "It really had to happen if they were going to stay in business," said
Rob Enderle
, president and principal analyst at San Jose, Calif.-based
Enderle Group
. "It was either ship some jobs overseas or lay everybody off and close the doors."
Not in dispute is that the PC company grew exponentially while Snyder was actively leading the company as executive vice president and president from 1991 to 1997.
The firm, then based in South Dakota, went from about 700 employees to about 13,300 during that period, including 10,000 in the U.S. Its sales soared, rising from
$1.107 billion in 1992 to $5.035 billion in 1996
, the last full year Snyder served as president, according to Securities and Exchange Commission filings.
Still, Snyder's critics say that he should take the blame for Gateway's outsourcing during the time when he was serving on the Board after exiting day-to-day leadership of the company.
"This is a guy who was watching out for himself when he was at Gateway all along," said
Mark Brewer
, chairman of the
Michigan Democratic Party
. "That's not the kind of selfish person we need here. We're looking for somebody that's going to bring investment and jobs from China to Michigan."
The accusations are reminiscent of rhetoric that plagued billionaire Amway executive
Dick DeVos
' failed Republican gubernatorial campaign in 2006. DeVos, similarly accused of outsourcing jobs, couldn't escape voters' wrath as Michigan's economy crumbled in the face of global competition.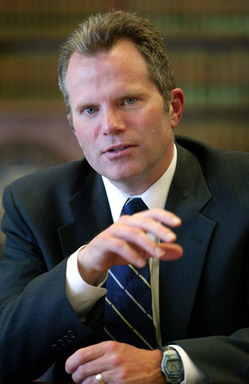 File photo | AnnArbor.com
Snyder argued that he
created jobs
as a Gateway executive and in recent years
as a venture capitalist in Ann Arbor
. He said he couldn't stop the
outsourcing Gateway did
from about 2003 to 2005 when he was still serving on the company's board.
"I was a minority voice on the board, saying I didn't agree with several of those steps," he said.
Gateway's demise after Snyder's departure
Gateway started to fall apart about three years after Snyder resigned as an executive but was still serving on the Board.

Industry competition intensified and consumers got more selective during the dot-com bubble bust.

"The PC market hit a wall in late 2000," said Charles Wolf, an analyst for New York-based Needham & Co. "The company blew up."
Gateway sold 4.6 million computers in 1999 but that dropped 54.3 percent to 2.1 million in 2003. During that period, competitor Hewlett-Packard acquired Compaq in a deal now seen as critical to H-P's success.

During the same period, SEC filings show that the company's hiring got out of control. Under CEO Jeffrey Weitzen, who led the company from 1999 through January 2001, the company went on a hiring binge.

By Dec. 31, 2000, Gateway had operations in more than 16 countries, according to SEC filings. About 21,100 of the company's 24,600 full-time employees were still based in the U.S..
But when the PC market imploded, Gateway founder Ted Waitt, angry at the executive leadership of the company, installed himself as CEO in January 2001 with the support of the board, according to "Fortune" magazine. To help the company survive, he tried introducing a variety of non-computer products and revitalizing the company's struggling retail stores.
But Gateway had a hard time appealing to consumers with its build-to-order model, and the retail stores never took off.

"The stores were crappy. And they were not Apple Stores," Wolf said. "They were not fun to go into."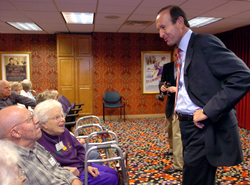 File photo | AnnArbor.com
In September 2003, the company announced that it would start outsourcing some manufacturing and service operations to foreign companies in a move Waitt described in a news release at the time as vital "to create a more efficient infrastructure as the backbone of the new Gateway."

Three years earlier, contract manufacturing in the electronics industry was already an $103 billion industry, according to a widely cited report by Massachusetts-based International Data Corp.

As of February 2004, Waitt controlled 32.8 percent of the company's stock, according to SEC filings, meaning he had significant influence over company decisions.
Enderle blamed most of the company's downfall on Waitt.
"He was kibitzing. He would parachute in, make a couple of decisions and parachute back out again," said Enderle, whose firm has provided research services to most major computer companies, including Gateway at one point. "Anybody that was trying to run the company had to deal with Ted Waitt as more of a problem than a help. He was coming in and being disruptive on a regular basis."
Waitt, who became a billionaire through Gateway's rise, now focuses most of his time on philanthropy. He declined multiple interview requests.
Merger changes business model

By the time Gateway was ready to embrace outsourcing, the company had already reduced its personnel significantly due to declining sales. The firm was down to 7,400 employees in the U.S. and just seven overseas by Dec. 31, 2003, according to SEC filings.
After its third straight year of losses, the company acquired competitor eMachines for $289.5 million in March 2004. At the time, eMachines relied almost exclusively on foreign suppliers and third-party retailers to make and sell its computers.
The move was widely seen as a reverse acquisition, because Wayne Inouye, CEO of eMachines, took over as CEO of Gateway after the merger. He decided to shift most of Gateway's remaining manufacturing operations to foreign suppliers. He also closed the 188 remaining stores, choosing to rely on third-party retailers.
By Dec. 31, 2005, Gateway had only 1,800 employees, all in the U.S. The downsizing, outsourcing and the eMachines acquisition returned the company to a profit in 2005 for the first time in five years, records show.
Snyder said "business realities" forced Gateway to downsize and alter its business model to stay alive.

Inouye left the company in February 2006, and Snyder, who had been appointed chairman in 2005, agreed to step in as interim CEO while the company searched for a permanent replacement. Snyder served as interim CEO for about seven months until the company hired J. Edward Coleman as the permanent CEO.
Coleman led Gateway to a $710 million sale to Asian manufacturer Acer, which continues to sell products under the Gateway brand.
Should Snyder be held responsible?

The accusation that Snyder sent jobs overseas irritates Rob Cheng, who lived next door to Snyder in South Dakota and served as Gateway's chief marketing officer in the 1990s.
"The exact opposite is true," Cheng, now CEO of PCPitStop.com, said in an interview from Rio de Janeiro, Brazil. "When Rick was there and I was there, we created so many jobs, it wasn't even funny. We were very, very successful."
Chris Rizik, Snyder's venture capital business partner in Ann Arbor and campaign contributor, said Snyder shouldn't be held accountable for Gateway's problems or outsourcing initiatives just because he sat on the company's board, which also included former U.S. Sen. Elizabeth Dole at one point.
"If I were responsible for what every CEO on every board I've served on did, God knows my wife wouldn't even talk to me," Rizik said. "The majority of those decisions don't make it to the board level."
But Brewer criticized Snyder for not being more vocal.
"Did he not speak up and say this is the wrong way to go?" Brewer said.

Snyder said that once he was named interim CEO, he had the opportunity to make changes. During that stint from February 2006 to September 2006 - when he commuted from Ann Arbor to California - Gateway announced that it would start a call center in South Dakota. The company also announced plans to hire 300 workers for a new manufacturing complex in Tennessee, the Associated Press reported at the time.

Snyder said the call center, which had been outsourced to Asia sometime after he resigned as president, was better done in the U.S.
"I think I was on the front edge of explaining that and communicating that to people in this country," he said.
Tech analyst Enderle said Gateway was a leader in describing the importance of U.S.-based work.
"Gateway was one of the first to say, 'OK, let's bring the services jobs back here so that people who are buying machines here are talking to service people here,'" Enderle said.

Cheng, who's contributed to Snyder's campaign and considers him a friend, blamed Gateway's demise on poor executive leadership years after Snyder left.
"All of us were in it to make a great company," he said. "All the people who came in afterwards were in it to make a lot of dough. That hurt the company."
Contact AnnArbor.com's Nathan Bomey at (734) 623-2587 or nathanbomey@annarbor.com. You can also follow him on Twitter or subscribe to AnnArbor.com's newsletters.