Posted on
Fri, May 27, 2011 : 5:58 a.m.
Does a new Detroit-to-Windsor bridge matter to Ann Arbor? Canada says yes
By Nathan Bomey
Lansing lawmakers are debating the prospect of a second bridge spanning the Detroit River and connecting the Motor City with Windsor, Canada.
But does it matter to Ann Arbor?
Roy Norton, consul general of Canada at Detroit, who is responsible for leading Canada's relationship with Michigan, Indiana, Kentucky and Ohio, said the answer is yes.
"The Michigan-Canada economic relationship is the most important one we've got. Michigan literally buys more from Canada than we sell to any country in the world except for the United States," Norton said. "So your prosperity, your ability to continue to consume our goods and services is vitally important to us, and the flip side of the coin is equally true. Michigan exports more to Canada than it does to any jurisdiction in the world.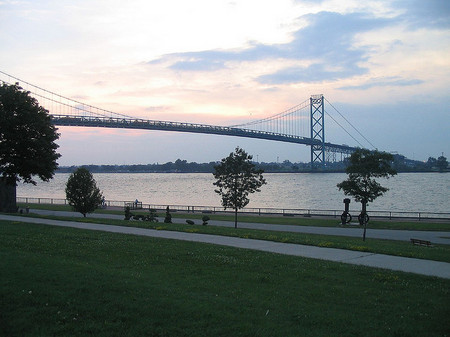 Photo courtesy of VideoVik via Flickr
"Part of what makes us important to one another is the fact that businesses … have as part of their business plan moving things back and forth across the frontier as seamlessly as possible."
Michigan Gov. Rick Snyder supports setting up a public-private partnership that would construct and manage a new bridge, but the Detroit company that operates the existing Ambassador Bridge over the Detroit River wants to build its own bridge and is trying to block the public-private span.
In 2010, legislative Republicans blocked the public-private bridge, saying they were concerned that taxpayers could be stuck with a bill if the bridge proves to be a financial debacle.
But Snyder endorsed the proposed New International Trade Crossing bridge in his State of the State address in January after convincing the federal government to accept Canada's offer of up to $550 million — which would be used to construct Michigan's half of the new bridge — as matching funds the state must deliver to receive federal roadwork dollars.
That deal led Republicans to reconsider the project — and the Canadian government is hopeful that the new bridge will be approved this year. Tolls from the new public-private bridge — which is supported by most major businesses in the state, including all the major auto companies — would be used to repay the Canadian government.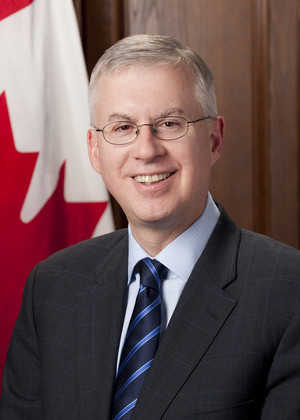 But Manuel "Matty" Moroun's Detroit International Bridge Co., which wants the right to build its own bridge at a different point over the Detroit River, is moving aggressively to try to block the public-private bridge.
One issue facing Moroun, however, is that the Canadian government has said it will not allow Moroun to build the bridge where he wants to build it. The Canadians say they will only build the bridge where the public-private partnership would build it.
Meanwhile, Snyder and the Canadians say the bridge project would create 10,000 construction jobs in both countries — and that a new bridge needs to move forward now.
Norton, who recently met with the Ann Arbor/Ypsilanti Regional Chamber of Commerce to drum up support for the project, recently spoke with AnnArbor.com's Nathan Bomey. Excerpts:
AnnArbor.com: Why is a new Detroit-to-Windsor bridge important to the Ann Arbor region?
Roy Norton: The Ambassador Bridge, which has done yeomen service, is nonetheless 82 years of age. It wasn't built to last forever. That bridge alone carries almost 30 percent of the world's largest two-way trade relationship. And literally millions of jobs in the United States and millions of jobs in Canada depend on everything working just right every day at the Ambassador Bridge.
Ten thousand trucks a day cross the Ambassador Bridge — and projections, including projections made by the owners of the Ambassador Bridge, although their television commercials tend not to highlight this fact — are that truck traffic will grow at least three-fold over the next 30 years.
Firms that rely on this service — the ability to move goods back and forth — need to know that they can do so predictably or they will locate where they can have that confidence.
So it matters to the state, it matters to the region, it matters to the whole country. As to why it matters to Ann Arbor and Ypsilanti, John Dingell's district in 2009 did $6 billion in exports to Canada. In the 11th district next door, exports were $7.8 billion.
AnnArbor.com: The Republicans in the state Legislature have said they're concerned about the financial viability of the new bridge. Are you convinced that it would be financially sustainable?
Norton: In reality, it's a non-issue, because Canada has said that we'll guarantee the bridge.
Canada's a pretty well-managed country, as it happens. Until the Great Recession of 2008, we had 11 national surpluses consecutively. We'll be back in surplus in a couple of years. We're not in the habit of making dumb financial decisions. Maybe this will be one — but we don't think so.
The only piece that could have been Michigan's responsibility is the I-75 connection from the foot of the new bridge to existing I-75. That would have cost — it's estimated by Canada and Michigan — somewhere in the order of $500 million. Maybe as high as $550 million. The legislation will make clear that Michigan isn't going to be responsible for that either.
So, for no money down and no liability, Michigan gets joint ownership and joint control of a state-of-the-art, six-lane bridge built to last 125 years that will massively increase the investment attractiveness of the region and will substantially increase the capacity to move stuff back and forth.
We think it's an exceptionally good deal. We're not in the habit of cutting this kind of deal, but it's so important to us. It is Canada's No. 1 infrastructure priority.
AnnArbor.com: How frustrated have you been at the Moroun family's ability to block this so far?
Norton: I just started in September, so I haven't had the chance to get frustrated yet. Give me time. Nothing that's happened so far has been a surprise. The status quo works for them. They like things the way they are. Nobody with half a brain has any trouble figuring out why they like things the way they are.
We're pretty confident — hopefully not naively so — that legislators at the end of the day will be hard pressed to oppose this, that it's just so compelling, it's such a good deal, it does so much for the state.
AnnArbor.com: And to be clear, if this bridge goes up, the Ambassador Bridge will continue to operate and trucks can continue to go over that bridge.
Norton: Oh, absolutely. Because we're talking about projected growth of two-, three-fold, they'll get their share of that, too.
Will they carry as much traffic as they do today? Not the day after the bridge is built and maybe not for a little while. It will probably take a little while for them to ramp up as they gain their share of the increased volumes before they get back to.
But it's a bridge that's paid for, it's enormously profitable. Because it's profitable, it will remain in business and, frankly, it's critical to the whole objective of achieving redundancy that they do remain in business.
We need both bridges — and we see no reason why both bridges wouldn't be both operational and profitable.
AnnArbor.com: For the construction of the actual bridge, if it gets approved, how will the construction jobs be handled?
Norton: They'll be Michigan workers on the Michigan side of the bridge, as in literally the half of the span that is in the United States, plus all of the road work on the U.S. side, and they would be Canadian workers on the other side.
And we're talking about 10,000 jobs during the construction period.
AnnArbor.com: How long would the project take?
Norton: Four to five years.
AnnArbor.com: How important has the governor's support been so far to get you across the finish line?
Norton: Well, it's not about us. We care deeply, passionately. It's equally about you. The governor is acting in the best interests of the people of Michigan, not the best interests of the people of Canada.
If the governor were opposing this, I don't think there would be a chance of it going anywhere.
But there is no other economic development project of even remotely near this magnitude on offer in Michigan. It's a freebie, in reality.
Given that there are Republican majorities in both chambers, it will require, presumably, a majority of Republicans in both chambers to be supportive if it's to stand a chance of passing. We think it will and we believe the governor that it will this year. If it were to pass this year, then it can be opened in 2015, 2016.
AnnArbor.com: Close to the (2014 gubernatorial) election.
Norton: Well it would certainly be well underway in terms of construction with the economic impact of that having already taken root.
AnnArbor.com: If this continues to get delayed, how long until you think companies tart to choose a different route?
Norton: Well, we have other options. We can go to the United States Congress, which can exercise the same kind of authority as Michigan could. It's not our preferred route. It's not the preferred route of the U.S. administration for that matter.
But if Michigan were to do as it did last year — essentially let it hang and not make a decision — I think it's entirely possible that the U.S. federal administration and Congress would say this project is too important to our bilateral relationship, so it's time for us to upload it to Washington.
I think that's what would happen next and we hope never to speculate about the need for companies to go if they can't have reliable transportation in this area.
Contact AnnArbor.com's Nathan Bomey at (734) 623-2587 or nathanbomey@annarbor.com. You can also follow him on Twitter or subscribe to AnnArbor.com's newsletters.