Posted on
Mon, Nov 21, 2011 : 5:58 a.m.
Pillows, TVs and massages for dogs: New business launches on West Liberty
By Janet Miller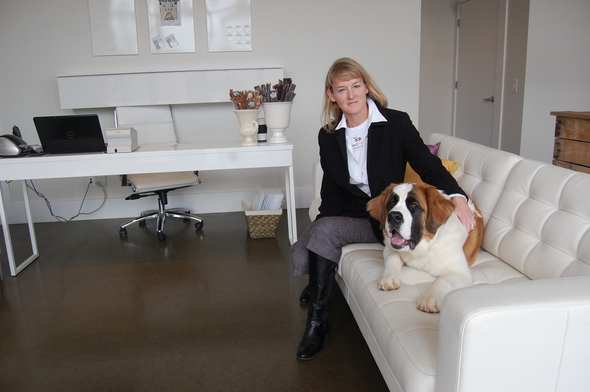 Janet Miller | For AnnArbor.com
BreedAbove
, a new business in West Liberty in Ann Arbor, offers the luxury touches that have become the calling card of high-end salons and hotels, from a reception area with contemporary white sofas, lots of natural light and clean lines to massage services and plumped pillows on the beds.
But don't plan on spending a long weekend or a relaxing day at the spa with your friends. Unless, of course, you have fur, four legs and you're known to slobber when you're happy.
BreedAbove has taken pet pampering to the next level, offering a roster of services for dogs including grooming, day care and play groups, overnight lodging, training and taxi service.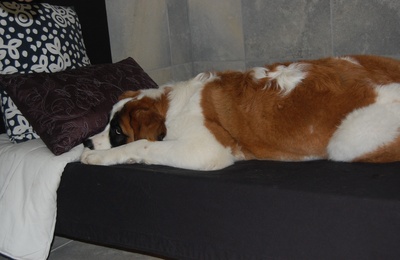 Janet Miller | For AnnArbor.com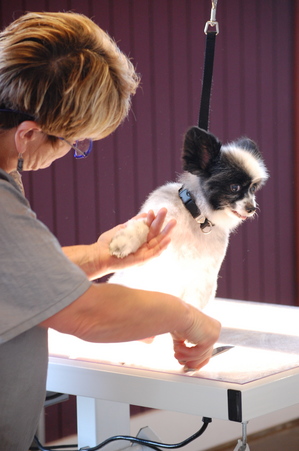 Janet Miller | For AnnArbor.com
And while there's plenty of swank, it's also about safety, said
Jocelyn VerLee
, president and one of the owners of BreedAbove. The safety features include break-away collars worn by each dog, flexible modular fencing in the DayStay atrium room and temperament testing dogs before they are admitted (there's a three-page application) to the program. The business has tested more than 100 dogs since it opened.
Planning for BreedAbove Inc. took more than three years, VerLee said. The business secured financing from a group of Ann Arbor investors, who purchased and renovated the 8,100-square-foot former Fresh Seasons Market at 2281 W. Liberty on the west side of Ann Arbor. Renovations took eight months, and the business has six employees.
BreedAbove opened two months ago, and demand has already exceeded projections, VerLee said. Most of the customer traffic has come from word of mouth.
"The demand has been so big I haven't had time to develop our marketing tools. We're unique because we offer a consolidation of services under one roof," VerLee said.
BreedAbove offers four types of services: a pet salon with grooming, dental care and massage; a DayStay program that stresses training; NightStay hotel suites with private rooms and flat screen TVs and one-on-one training.
But don't call it doggy day care, VerLee said. BreedAbove does more than babysit dogs. The dogs are broken into small playgroups and assigned a coach, who works with the dogs on training and manners.
"We work along with the pet parent to reinforce their training," VerLee said. It's a calm environment with little barking and no tell-tale doggie smell because an energy ventilating system cleans the air.
The facility and the care come at a premium. BreedAbove is more expensive than most competitors, VerLee said. Cost for a full day is $35 or $250 for an eight-day package.
And don't call it kennel, either. Each of the 18 overnight suites has a bed, inner spring mattress and headboard along with a comforter, waterproof sheets and colorful pillows. And eight flat-screen TVs show movies such as "101 Dalmatians" or "The Fox and the Hound".
""We're all about comfort," VerLee said.
She expects to grow. That's one reason the investors selected the former farm market location. There's room for the dogs to run, but also space to grow. The business plans to add a coffee bar soon — for pet parents, not pets — and hope to someday also offer services for cats.
BreedAbove will hold a public open house Dec. 11.
Janet Miller is a freelance reporter for AnnArbor.com.