Posted on
Thu, Sep 16, 2010 : 5:59 a.m.
Domino's Farms celebrates 25th anniversary as landmark Ann Arbor office building
By Paula Gardner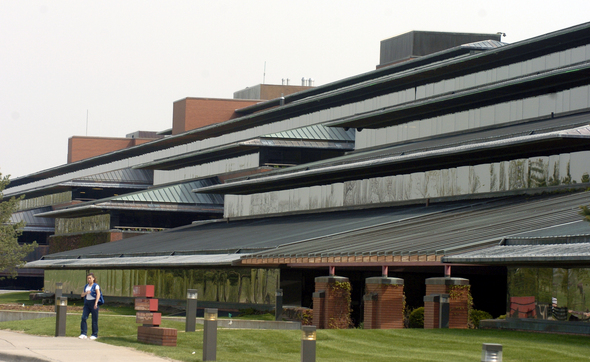 AnnArbor.com files
Just shy of 1 million square feet, the
Domino's Farms
office complex stands at a gateway of Ann Arbor, a product of its time.
That time was 25 years ago, when Tom Monaghan owned Domino's Pizza and was still celebrating its international growth.
It was a time when the 270-plus acres in Ann Arbor Township was available, when Monaghan's long-time interest in architecture converged with his means to build what he knew could become an iconic structure that paid homage to famed architect Frank Lloyd Wright.
The office building now celebrates its 25th anniversary this year, with Monaghan, tenants and business leaders converging on the building Friday morning for a breakfast event.
But the building - even as a product of its time - never stayed stuck in its original era. Additions over the year, the last started in 2004, put the finishing touches on the structure that remains one symbol of Ann Arbor.
"We're proud that this facility has stood the test of time, and I think many people could argue that it's as successful - or more successful - than when it opened," said John Petz, director of government and community relations for the property.
AnnArbor.com files
The building,
located
between Plymouth Road and M-14 on the east side of US-23, is home to more than 60 businesses today, Petz said. Its occupancy rate is about 95 percent. Tenants include the
University of Michigan Health System, Hylant Group
and
Aastrom.
And the original tenant - Domino's Pizza - remains there, operating its world headquarters in space that only a few years ago was expanded and remodeled.
Expressing passion for a building isn't alien to the builders and developers who see beyond the space to appreciate the creativity, engineering and atmosphere a building creates.
It's a passion that I see and discuss as part of my job. There are other buildings in town that inspire it: The First National Building is one that's historic. The Biomedical Science Research Building on the University of Michigan campus is a newer example.
And Domino's Farms now has enjoyed a quarter-century on that list.
"The architecture," Petz said, "is going to be timeless.
"This building is going to look as good today on its 25th anniversary as on its 100th anniversary. It's a design that's so unique and beautiful."
Petz stresses, though, that the building is more than a building. It's a campus, where tenants participate in activities like this week's Corporate Challenge events and feel a connection to each other.
There's also enough land to continue development on the property, but Petz said that's not in the works.
Beyond the structure, it's also a place where community activity and participation is welcome. There's a petting farm. A chapel. A herd of buffalo. In previous years, there was an auto museum and Frank Lloyd Wright museum.
"The community has had a chance to engage with Domino's Farm, and that's not something that happens with most office buildings," Petz said. "We're proud of that relationship, and we look forward to it continuing."
Paula Gardner is Business News Director for AnnArbor.com. She can be contacted by email.