Posted on
Tue, May 1, 2012 : 12:54 p.m.
International growth: Domino's Pizza's overseas store count surpasses U.S. stores
By Lizzy Alfs
Ann Arbor Township-based Domino's Pizza is growing overseas.
As of March 25, the company — which reported its first-quarter profit Tuesday — had 14 more international stores than U.S. stores for the first time in Domino's history.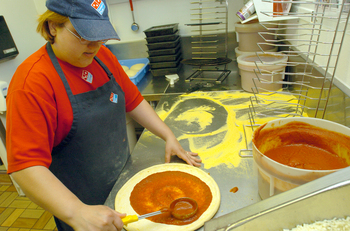 AnnArbor.com file photo
The company had 4,912 international stores as of March 25, up from 4,835 locations on Jan. 1. In the U.S., there were 4,898 stores as of March 25, compared to 4,907 on Jan. 1.
Domino's CEO Patrick Doyle, during a conference call, said the opening of 77 international stores during the first quarter is "the best (Domino's has) ever done in the first quarter with the international business."
He called the growth an "incredible milestone" for the company.
He added: "The day when Domino's Pizza worldwide has 10,000 stores is not far off. It's a milestone I look forward to celebrating soon."
Domino's also said Tuesday its first-quarter profit fell 24 percent, hurt by lower revenue and costs related to a debt recapitalization completed during the quarter.
Net income fell to $20.7 million, or 35 cents per share for the three months ended March 25. That is down from $27.1 million, or 43 cents per share, last year. The company said excluding costs related to completing a recapitalization of debt, its earnings amounted to 47 cents per share.
Revenue fell 1 percent to $384.6 million from $389.2 million last year. Revenue was down partly from lower volume due to lower order counts at the store level, Domino's said. That was because deals during the quarter focused on side items, designed to improve profitability.
Revenue in restaurants open at least one year rose 2 percent domestically and 4.7 percent abroad.
In the past few years, Domino's has reinvented its brand by rolling out several successful marketing campaigns and redesigning its pizza, helping to rake in $105.3 million in sales in its 2011 fiscal year. The 2011 sales marked a 19.8 percent increase over its 2010 fiscal year.
The company has continued to make series of menu changes, including introducing chicken products, adding artisan pizzas, redeveloping the cheesy bread and adding parmesan bread bites.
Founded in 1960, Domino's operates a network of 9,810 franchised and company-owned stores in the U.S. and 70 countries worldwide.
Lizzy Alfs is a business reporter for AnnArbor.com. Reach her at 734-623-2584 or email her at lizzyalfs@annarbor.com. Follow her on Twitter at http://twitter.com/lizzyalfs.