Posted on
Mon, May 7, 2012 : 10:15 a.m.
Domino's Pizza now offering gluten-free pizza crust
By Lizzy Alfs
Ann Arbor Township-based Domino's Pizza announced Monday it's adding another option to its menu: gluten-free pizza crust.
The crust — which Domino's launched today in nearly all of its 4,900 U.S. stores — is available only in a small, 10-inch pizza. It's prepared with water, rice flour, olive oil, potato starch and rice starch.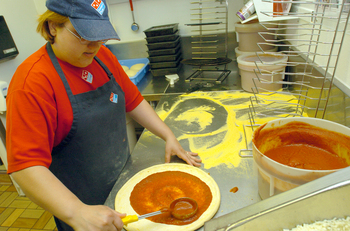 AnnArbor.com file photo
"The prevalence of gluten sensitivity has become a real issue with significant impact on consumer choice, and we want to be a part of the solution," said Domino's CEO
Patrick Doyle
, in a release.
Domino's consulted with the National Foundation for Celiac Awareness when developing the crust to meet the foundation's standards, according to the release. Although the crust is free of wheat, barely and rye, Domino's warned there could still be traces of gluten present since it's prepared in a common kitchen.
For this reason, the company said, the new crust is appropriate for those with mild gluten sensitivity but not people with celiac disease.
Domino's also posted a video on YouTube to describe the crust and how it's prepared.
Founded in 1960, Domino's operates a network of 9,810 franchised and company-owned stores in the U.S. and 70 countries worldwide.
In the past few years, Domino's has reinvented its brand by rolling out several successful marketing campaigns and redesigning its pizza, helping to rake in $105.3 million in sales in its 2011 fiscal year.
The company has continued to make a series of menu changes, including introducing chicken products, adding artisan pizzas, redeveloping the cheesy bread and adding Parmesan bread bites.
Lizzy Alfs is a business reporter for AnnArbor.com. Reach her at 734-623-2584 or email her at lizzyalfs@annarbor.com. Follow her on Twitter at http://twitter.com/lizzyalfs.