Posted on
Mon, Aug 6, 2012 : 11:21 a.m.
Domino's Pizza kicks off new ad campaign and offers 50 percent discount for online orders
By Lizzy Alfs
Domino's Pizza wants its customers to know there are more than 34 million ways to customize a pizza.
That's the message at the center of the Ann Arbor Township-based company's new TV advertising campaign that kicks off Monday, highlighting its "endless" pizza options.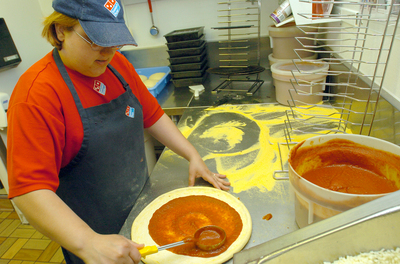 AnnArbor.com File Photo
The new campaign corresponds with a weeklong deal offering customers 50 percent off pizzas ordered on Domino's website or mobile ordering applications.
The discount — which was also offered for a week in June — starts Monday and runs through Aug. 12.
The deal comes as Domino's continues to increase its online ordering volume. The company celebrated a milestone earlier this year when it reached $1 billion in digital sales from April 2011 to April 2012.
"We're doing over 30 percent of our orders online now in the U.S.," Domino's spokesperson Chris Brandon told AnnArbor.com on Monday. "Every now and again we like to say a little thank you and offer a little value to our online customers."
Brandon declined to comment on whether the last 50 percent off promotion was successful, but said customers are usually "very appreciative."
This most recent ad campaign comes four months after the company rolled out its controversial "No!" ads — which told customers they could not add or remove toppings from Domino's artisan pizzas.
Brandon said the "No!" ads were a "tongue-in-cheek way" to show how confident Domino's was in the artisan pizza recipes.
"That whole campaign was just around the confidence in those preset artisan recipes…that was more of just a playful way to show customers, 'We want you to try these as they are,'" Brandon said.
Domino's, founded in Ypsilanti in 1960 by Tom Monaghan, operates a network of 9,924 franchised and company-owned stores in the U.S. and 72 countries worldwide.
In July, the company posted an 11.5 percent increase in profits for the second quarter of 2012.
Lizzy Alfs is a business reporter for AnnArbor.com. Reach her at 734-623-2584 or email her at lizzyalfs@annarbor.com. Follow her on Twitter at http://twitter.com/lizzyalfs.