Posted on
Thu, Sep 1, 2011 : 10:49 a.m.
Domino's Pizza's Noid named among Time magazine's 'Top 10 creepiest product mascots'
By Nathan Bomey
Poor Noid.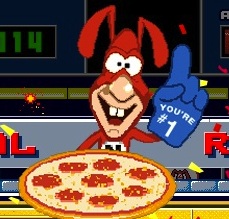 Photo courtesy of Domino's Pizza
Temporarily revived by
Domino's Pizza
last month
on the 25th anniversary
of his creation as a mascot featured in the chain's advertising, the long-earned red cartoon is once again the target of industry scorn.
The Noid, which rose to fame in the 1980s by fecklessly trying to destroy Domino's pizzas, was named as one of Time magazine's "Top 10 Creepiest Product Mascots."
Claiming the Noid "didn't seem to have much to do with pizza," Time says the Domino's advertising campaign was "bizarre," describing the cartoonish creature as a "red-costumed gremlin with rabbit-like ears."
Apparently Time doesn't enjoy watching the Noid attempt to obliterate pizza using liquid nitrogen.
Alas, the Noid met his demise, Time reports, when "in January 1989, a mentally ill man named Kenneth Noid held up a Domino's in Georgia, claiming that the chain was personally attacking him. Thankfully, no one was hurt, and Domino's abandoned the creepy pizza-hating Noid shortly thereafter."
Other creepy product mascots, according to Time, include McDonald's Hamburglar, Burger King's plastic King character, the Kool-Aid Man and Count Chocula.
Commence protesting the defaming of these great American icons in the comments section below.
Contact AnnArbor.com's Nathan Bomey at (734) 623-2587 or nathanbomey@annarbor.com. You can also follow him on Twitter or subscribe to AnnArbor.com's newsletters.