Posted on
Wed, Apr 25, 2012 : 6:54 p.m.
Domino's shareholders reject Humane Society request regarding confined pigs
By Cindy Heflin
Domino's Pizza shareholders Wednesday overwhelmingly rejected a request to study ending the use of pork from suppliers who confine pregnant pigs in crates.
Some fast-food companies, including Burger King, McDonald's and Wendy's have pledged to phase out the use of pork from such suppliers.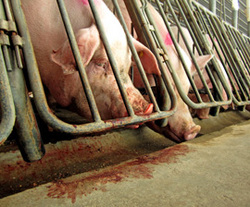 Photo from Humane Society
Domino's spokesman Tim McIntyre said the vote was 80 percent against the resolution, from the
Humane Society of the United States
, and 4 percent in favor. The holders of the remaining 16 percent of shares abstained, McIntyre said.
The resolution called for the company to prepare a report on the feasibility of ensuring that its pepperoni and ham come from producers that don't use "gestation crates" to confine breeding pigs.
Shareholders at the Ann Arbor-based company voted in accordance with a recommendation from the company's Board of Directors, which in a response to the resolution, said the issue should be addressed with pork producers and suppliers, not customers. The company also noted that it had provided similar information to that requested in the resolution in answer to a question at last year's shareholder meeting.
Despite the resolution's failure, the Humane Society was happy with the vote, said Matthew Prescott, food policy director for the organization. Garnering 3 percent of the vote in favor of the resolution means the organization can bring it back again next year, he said.
"By next year Domino's management will be hard-pressed to continue to ignore this," he said. He noted that Burger King Wednesday joined McDonald's and Wendy's in pledging to stop using pork from producers that use the crates.
"I think it's remarkable that 4 percent of all Domino's shareholders feel so strongly about this issue that they're willing to vote in favor of this resolution," he added.
The use of the gestation crates — which confine pregnant sows and prevent them from turning around — has come under fire in the past few years. Michigan and seven other states have passed laws restricting their use. Compass Group, the world's largest food service company, has joined the fast food restaurants in pledging to phase out the practice from their supply chains.
In 2010, the society bought stock in Domino's and last fall submitted a shareholder resolution asking the company to report on the feasibility of ensuring its pepperoni and ham comes from producers that don't use gestation crates.
McIntyre said Domino's is monitoring the issue. "We are paying attention to what McDonald's and Burger King are doing and this is not a company that is holding its collective hand to its ears or to its eyes," he said.
The company's proxy statement notes that its pork suppliers use animals from farms "that use a variety of animal management systems, including from farms that do not use gestation stalls." It also says the American Veterinary Medical Association and the American Association of Swine Veterinarians have published statements indicating there are advantages and disadvantages to both cage-free and caged pork production methods.
"We rely on animal experts to determine what is the best way to raise an animal that's being used for food," McIntyre said.